Finding a partner today can be quite a challenge; but, do not despair, this is the ideal place to learn what to do if you are single, you came to the right place!
Here, I am going to share practical tools for you to discover how to flirt by chat and do it well.
With the help of this article, it will be easier for you to find the guy of your dreams, and win him over without even being noticed!
Modern life brings with it a rhythm and a speed where looking for love can be very difficult if we don't know where to start.
But, it also brings the benefit of technology and social networks, so we must know how to be ready to use them in our favor.
Keep reading and discover some tips that will help you not to fail when looking for a partner on the internet.
FIRST CONTACTS: DO NOT LET THEM THINK THAT YOU WANT TO LINK THEM BY CHAT
To know how to flirt by chat , the first thing I recommend is to always keep in mind our Magnetic Desire Method so that, once that boy appears, you know the male mentality well and have materials in your favor.
Now yes, you are ready to start!
You found a boy in the chat, he has your same tastes and is what you are looking for or, at least, that's what it seems so far. You must answer him because he has already communicated with you!
At that moment you get very nervous, nothing occurs to you, you are going to write anything to him, to tell him that you are looking for love… stop!
You have an advantage in your favor and you have to know how to use it: that boy cannot see you, he is not in front of you, so there is less chance of "screwing up".
REMEMBER:
To know how to flirt by chat , keep in mind that in the first contacts you cannot launch yourself and tell him everything you feel or want to achieve with chat and conversation.
Even if you have the explicit goal of seducing by chat, you can never let the guy confirm that even if he is thinking about it.
Don't worry, if he contacted you it's because he has some interest, don't you think so?
So relax and enjoy a good conversation without venting all that you have inside: the goal is to bring him closer and closer, not to make him run away, or rather, to disconnect.
If you want extra useful help, see How to get a guy's attention on social networks so that you don't make mistakes in those first contacts that make you seem desperate.
THINK BEFORE YOU ANSWER: ADVANTAGES OF WRITTEN MESSAGES
Another advantage of social networks and chat contacts is that you have time to respond.
This is something that will come in handy to use to your advantage.
In face-to-face contacts, sometimes our nerves betray us and we end up saying something we didn't mean to.
Here is something different.
You have time to respond, it is not that you eternalize the answer because the other may get bored and no longer answer you, but you do not have to say the first thing that comes to your mind either.
Think carefully about your answers, meditate on what he has written to you and reread his texts before writing something you might regret.
KEY #1: BEWARE OF MISINTERPRETATIONS
One thing you should be extremely careful about when communicating and knowing how to flirt in chat is misunderstandings.
This way to find a partner has many advantages, but also disadvantages.
Since the conversation is not face to face, you do not have a support that you have in person and that you do not even notice: the female body language and intonation.
The support of the hands, the eyes, the expression of the face and the tone of voice, are extremely important resources when you communicate with another person, and here you do not have them!
To know how to flirt by chat , keep in mind that you must be extremely careful with putting phrases or jokes that can be misinterpreted by that boy you want to conquer.
The way we think and write an idea is not always the same as how it is received.
Avoid personal comments and phrases that are ambiguous in meaning or that may seem like you mean something else, you could make fatal mistakes!
KEY #2: KEEP AN ENGAGING CONVERSATION
You have already connected with that boy who is beginning to attract you, you are already beginning to dream of a possible relationship: now keep up the pace!
The boy doesn't know you and you don't know him, and the contact they have is via chat and with written messages, because you have to know what you are going to write to him!
To know how to flirt by chat , prepare possible conversation topics and study a little what may or may not interest you the most.
Look for curiosities and topics that can help you to display your skills as a person and maintain a fluid conversation without getting bored.
It's not about looking too sophisticated or cultured.
Go testing the situation and discover with which topics you are attracting more attention.
At the end of the day, what you want to achieve is that the guy is interested in continuing to talk with you now and in the future.
Be yourself when it comes to conversation, but with advance preparation!
KEY #3: GIVE ROOM TO THE OTHER: TAKE CARE OF YOUR CONVERSATION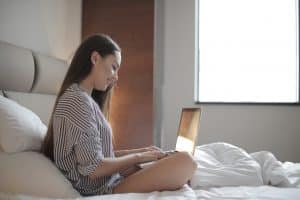 Another fundamental aspect to know how to flirt by chat is moderation.
You can not occupy the entire chat with your long dialogues, because then more than a conversation with another person you could stay in just a monologue.
Nor is it about not talking almost at all, but you must leave space for him to talk to you too.
You can't risk boring him or making him think you're too absorbing.
In any case, you can let him guide the conversation if you feel that you are on your way to making a great speech.
There are times to talk about you, but there are times when he has to talk about what he feels and suffers.
So now you know, give him space and time to develop, don't occupy everything yourself!
How to flirt by chat is possible, you just have to follow, to the letter, the keys that I share with you!
KEY #4: ASK OPEN-ENDED QUESTIONS AND AVOID YES OR NO ANSWERS
As you should write with moderation and think about what you are going to answer or ask, as I explained before, you can prepare the questions that you are going to ask.
If you condition the answers to be short or to a simple "yes" or "no", you find yourself in the need to speak again, or to create very uncomfortable spaces of silence.
If you don't bring up the right topics or ask the right questions, the conversation will wind down and he, or even both of you, may lose interest.
You can seek help in 77 questions to know if he really wants to commit , which will also give you clues about commitment and what the guy is looking for in you and in a relationship.
You can also look at 99 questions to get to know my boyfriend better , because although they are questions for couples, you can use some for that boy who, ultimately, you want to be.
Do you want to know more keys to know how to flirt by chat ? Keep reading and take note!
KEY #5: TAKE CARE OF YOUR SPELLING AND GRAMMAR
If you have problems with spelling, I strongly recommend that you consult dictionaries before writing.
Bad spelling, writing, and grammar are the chat equivalent of bad breath in a face-to-face conversation.
It's like talking to the other person, but doing it so fast or confusing that they don't even understand you and have to constantly say: "what?", "can you please repeat what you said?".
If the other person has the same spelling problem as you, they may not even notice it or notice it too much; but, if not, you will make a bad impression!
Remember that in this modern way of flirting you have other tools than those you have in "real" life, in physical presence, and you have to know how to use them well because otherwise you can ruin everything, or worse, never succeed with any! guy!
It's not about appearing overly cultured, but a little good manners when writing will make your messages come through clearer and easier to read and understand.
KEY #6: ACT CONFIDENT: DON'T OVERWHELM HIM WITH EXCESSES
To discover how to flirt by chat , trust is important and, above all, pretend that you have it even if you die inside!
Make the conversation natural, act as if you were talking to a close friend and relax, it will be easier for you!
Do not overload his chat with constant messages and, if he has not replied to the last one you wrote to him, be patient, do not send him one after another, he may not have had the time to answer even though he is connected.
Wait and don't harass him because he may think you're desperate.
Also, do not use too many emoticons or other options as a substitute for your conversation or the expression of what you really feel and want to say.
He may believe that you are very childish or that you do not know how to express yourself clearly.
Also take a look at the article on scielo.org.mx, it will surely interest you!
KEY #7: DON'T BE SO OBVIOUS: LEAVE ROOM FOR THE CASUAL AND THE NATURAL
The fundamental idea here is subtlety. You can't be so direct or force things because you risk messing everything up.
Never act desperate even if you really are.
Nothing drives a man away more than someone who wants, from the first moment, a serious commitment and love for life; normally, they look for casual things even if they have said otherwise.
Go slowly and act cautiously, you will see that it pays off!
Make it seem that everything happens naturally even if you are preparing in advance what you are going to say.
Make it appear that you found him "by chance" or that you have not thought about the commitment.
Let things flow and happen as events occur, and something important: let him believe that he is the one who takes the initiative even if you have already planned it!
Consult the text How to conquer a man subtly and discover how to flirt by chat without even realizing that you do it.
KEY #8: DO NOT FORGET TO SHOW YOURSELF INTERESTED AND PENDING ON THEIR STORIES
If he tells you something important about his life or any information from his history, you can't forget it!
If he opens up to you and tells you things, it's because he's really interested in you knowing them, so you can't waste that information.
Any information that he offers you, keep it as if it were a treasure, so he can know that you are really aware of his conversation, when he returns to what he told you before.
Show interest in his life as he tells you personal things and details.
KEY #9: INDIRECTLY SEDUCING: HINT THAT YOU ARE ATTRACTED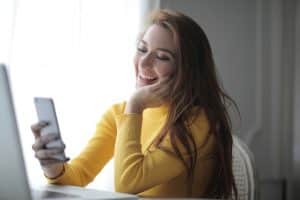 Of course, you can't leave everything to "chance" as it arises naturally, you also have to drop some messages for him to see that you are really interested!
It is clear, this will happen over time, never in first contacts that are like first dates.
If you want a little extra help, check out Subliminal Seduction so you know how to seduce him without even realizing you're doing it.
In addition, you can review Seduction phrases so that, from time to time, you can send him one and make him think about you for a while.
KEY #10: SEND PHOTOS WHERE YOU LOOK GOOD, BUT DON'T LOOK LIKE POSES
When you have a little confidence, you can use another weapon in your favor: photos.
Pick ones that look good on you, but look as natural as possible.
That they are not forced poses or that it is noticed that you have a direct intention.
You can also use others as a joke in which you come out funny or nice, or even one in which there is a story behind it that motivates the conversation.
Of course, invite him to send you photos too and discover his various facets.
Videos can also help you, but this is already more risky if you are starting to get to know each other; Maybe you should leave it for later.
KEY #11: PATIENCE: DON'T DESPAIR OR YOU'LL RUN IT AWAY
Always think of flirting like a cat that wants to catch its prey.
It's all about waiting, you can't rush or what you're trying to achieve will slip away.
Be very patient and never lose your cool; The art of seduction takes work and dedication if what you want is to find the love of your life.
On the other hand, if you are looking for passion for one night only, go for it without waiting too long!
KEY #12: HOW TO LINK THROUGH CHAT: LEAVE PENDING ISSUES
Closing a conversation can be more complicated than it seems, but it is strictly necessary, even if the conversation is the most interesting thing in the world and you do not want to stop talking to him.
You have to close the dialogue, but leaving the boy hooked!
You can use expressions like "we'll talk to each other later", "we'll continue at another time", "we'll come back tomorrow", and thus you give the idea of ​​continuity.
You can even use some excuse, if you don't really have one, and tell him that you have to leave him because you have to do something, but that later you would like to continue talking with him.
Another idea is to end the conversation with a phrase to establish a kind of habit that will keep him hooked and he knows that you will reconnect with him.
If you want help with this, see Phrases to fall in love for whatsapp , and choose the one of your preference.
KEY #13: KNOWING EACH OTHER LITTLE BY LITTLE
Of course, if you want to know how to flirt by chat, you have to do some investigative work on that boy with whom you are already beginning to empathize.
Never jump into the pool without knowing if it has water, you have to check first!
Study his personality with the data and stories that he himself gives you. Look on social media and mutual friends.
Never stop investigating, out of curiosity and because it is very necessary to achieve your goals in this case, but do not forget something important: that your boy does not notice that you have been investigating!
Learn more about this topic in the article published by redalyc.org
KEY #14: THE TIME TO MEET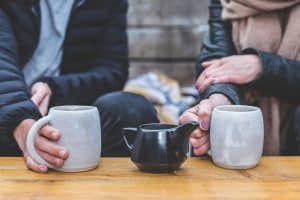 And finally, the face-to-face meeting.
It is clear that this must be the final objective, because you cannot stay only in the virtual; the relationship must move beyond that point.
My recommendation is that to see you with him, choose a quiet but public place, where the two of you can feel comfortable and safe.
If you want more help deciding to take the big step, read: how to be more attractive  and face your insecurities.
And if what you want is to be clear about this type of relationship, search for blind dates and discover why so many people choose this path in romantic relationships.
So now you know, apply these tips to know how to flirt by chat and launch yourself into the adventure of finding the great love of your dreams on social networks!