All of us have ever thought of messages to fall in love that resonate in the mind of someone who interests us very much.
However, when the time comes for us to speak, our minds become cloudy and we end up saying very different things.
On other occasions, it usually happens to us that we are in a relationship in which we are not very expressive, so much so that our partner begins to believe that we have lost interest as the days go by.
What to do if it is not so and, in reality, we want to manifest all that love? Read on and find out!
How to make a man fall in love with words of love?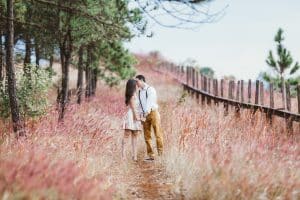 I want to tell you that it is normal to block yourself mentally when it comes to falling in love.
However, I want to offer you my help so that it does not happen to you, if you are one of these people or have felt this way at some point.
Here, you will find the best and most effective messages to make your man fall in love without you mentally blocking yourself.
This method will help you make that boy you like so much feel uncontrollably attracted to you or make your boyfriend want to be with you forever.
Pay close attention because, below, I will share the most original messages to fall in love, with which you will know how to conquer a man subtly.
Don't feel stuck for lack of inspiration and continue reading!
Messages to fall in love

with a man you like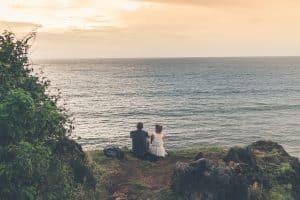 Allow yourself to be transparent!; there is nothing wrong in expressing what we feel to that person who encourages us to open our hearts.
According to an interesting article published by redalyc.org, words provoke desires, generate new meanings, and inevitably leave a mark on the loved one.
Flattering and expressing our purest feelings towards someone is always worth showing.
So cheer up! Read and put into practice the following messages to make the one you like fall in love, compiled especially for you:
I thought no one was perfect, until I saw you smile and everything changed.

I admit it, most of my time I'm thinking about you.

You are that little person that I never want to lose.

I would like to be the only person you want close when you don't want anyone to get close to you.

I woke up wanting you more.

It doesn't matter what day you read this.

I wasn't looking for the perfect, I was looking for you.

And suddenly, that person arrives who breaks all your schemes and makes you smile with the slightest nonsense.

I want to kiss you and whisper on your lips that I love you.

You always make me smile, how could I not end up liking you?

I look at you, smile, and ask myself: how do you make me like you so much?

A toast to that person you met by chance and who today is in your thoughts all the time.

Talking to you makes my day, my night, my life.

I would like to hug you tonight and every other night.

In case you read this: I love when you smile.

Sorry if I like you, but I can't help it.

Me here trying not to fall in love and you leave me with that smile, that looks, and well, that's how I don't play anymore.

Since that day I met you, I haven't wanted to meet anyone else.

I don't know about you, but I really want to be with you.

I fell in love with the way you touched me without using your hands.

My favorite place is when I'm with you.

You have no idea how happy a "hello" from you makes me.
Short messages to fall in love and seduce a boy intensely
When it comes to seducing a boy, everything is valid: a word of love, a detail that falls in love, or a seductive look.
Therefore, if you really want to conquer a man's heart, take a look at the following short love messages and the researchgate.net article!:
You are the most beautiful coincidence that came into my life.

I don't know what I saw in you, I just know I don't see it in anyone else.

I have a feeling it's you, what they call happiness.

Give me your hand, I want to show you that there is someone in this life who will not let you go.

You are my "I want to see you, so be a minute".

Something changed in me the day I saw you for the first time.

You are that little person I can't stop thinking about.

Only you cause that silly smile on my face with just one message.

You are the most beautiful story that destiny wrote in my life.

You are that present that I want in my future.

I don't love you as something temporary, I love you as something forever.

I'm not to blame for having fallen in love with you, it's your fault for being everything I like.
 

Messages to

make your boyfriend fall in love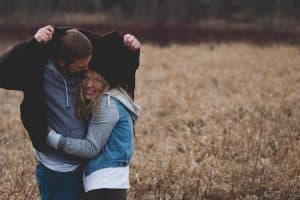 Love is like a seed, when you manage to plant it, you know that you must give it all the necessary care so that it can grow and become a beautiful plant.
The same way love and relationships work.
If you are in a relationship, be clear that your dedication is important.
It is not enough to establish that bond of boyfriends, it is also essential to apply the golden rules to keep him by your side.
Who doesn't like to be shown how much they love him?
On this occasion, you will have the best selection of messages so you can make him fall in love every day.
Selection of love phrases
You will see that a message is the most perfect spell to make a man fall in love.
No matter the difficulties along the way, I want to be with you forever.

When we're old I'm going to tell you: "You see that you were the love of my life."

I met you like anyone, but I love you like no one.

With you I want to go beyond love, do you want to go with me?

Why am I in love with you? I don't need to think about it much, my whole world is simply better when I'm by your side.

I may not be able to give you the best in the world, but I can give you the best of me.

For you I risk going wherever you go.

Loving you is… staying with you despite the storms.

You are more than a dream… you are a reality… you are my reality.

I don't need to shout to the world that I love you, it sounds better when I whisper it in your ear.

If there is something I want in this life, it is to be happy with you.

I make you laugh to fall in love, but when you laugh the one who falls in love is me.

Do me a favor?, never leave my life.

I met you when I least expected it, but you came to me when I needed you most.
Insinuating messages to make a man fall in love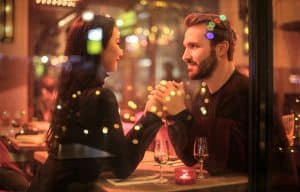 There are essential elements that we must preserve in a relationship, one of these is to remind our loved one how much love we feel for him.
For this, there are different ways to do it, for example, through messages to fall in love with seducers:
Don't wish me good night, give it to me!

The truth is, I don't want you in my dreams, I want you in my bed and close to me every morning.

Stone, paper or kiss me?

My favorite food is your lips!

I am going to give you kisses so tempting that they will end in burning desires.

To hell with the lottery, touch me!

Tonight I want you to punish me with all the power of your passion.

You are not my property, but my desire.

I want to lose control in your arms and fill my soul with you.

Everything in excess is bad, except you!

I'm a hurricane, I hope you like disasters.

Your skin is so strong that, even in the distance, it touches my memory.

Mathematically speaking, you are the sum of all my wishes.

You and I, we have many pending sunrises.

I kiss you, therefore I exist!

My desire to be by your side is not created or destroyed, they only accumulate.

I'm in a knot, will you undress me?

Kiss me!

Stop being racist and accept my black intentions.

In your hell or mine, but sinning together.

Of the hells that I have tasted, I would return to you because you tasted like heaven.

If you want I want;

If you dare, I dare.

Remember that if you undress my heart, the clothes fall off by themselves.

I speak three languages, but my favorite language is yours.

If you provoke me, I will answer you.
These ideas on how to seduce a man quickly will also be useful to you.
They will surely help you fill you with courage and confidence so that, on each occasion, you can assertively express what you feel for your boy or show him how much you love him!
Poems to make a man fall in love
In case your boy is a complete romantic and likes poetry, here is a small collection of beautiful poems that celebrate love!:
dream

of you (anonymous)
Today I asked my sunrise
The light from your eyes,
the taste of your kisses,
your caresses,
your wish…
I wanted to be prey
of your illusions,
of your darkest secrets,
from the touch of your skin,
of your breath,
to rock my dream.
And I agreed my good morning…
silent,
with a single language,
the smile…
Because last night I slept
to dream of you
and at dawn I invented a dream,
to live you
Definition

(Gioconda Belli)
We could have a discussion about love.
I would tell you that I love the curious way your body and my body meet, explorers who renew the oldest act of knowledge.
I would say that I love your skin and that my skin loves you (…)
I would also say that I love your eyes that are clean and that also penetrate me with the vapor of tenderness or questions.
I would say that I love your voice especially when you say poems, but also when you sound serious, so worried about understanding this wide and alien world.
I would say that I love meeting you and feeling inside of me a trapped butterfly fluttering in my stomach and wanting to laugh at the pure joy that you exist and are here, knowing that you like the clouds and the cold air of the Matagalpa forests.
We could discuss whether what I'm telling you is serious.
If it is a minor burn, second, third or first degree.
Whether or not you have to put names to things.
I only affirm a simple phrase: I love you.
With you

(Luis Cernuda)
My land?
My land is you.
My people?
My people are you.
Banishment and death
for me are where
you are not.
And my life?
Tell me, my life,
what is it, if it's not you?
I love, you love…

(Rubén Darío)
To love, to love, to love, to love always, with
the whole being and with the earth and with the sky,
with the light of the sun and the darkness of the mud:
to love for all science and to love for all longing.
And when the mountain of life
is hard and long and high and full of abysses,
love the immensity that is lit up with love
and burn in the fusion of our very breasts!
Words of love for a man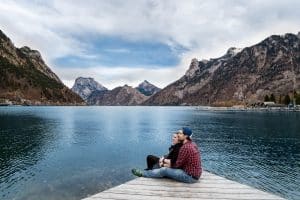 Dare to read the following messages to make your boyfriend fall in love and use them as many times as you want so that he is always crazy in love with you:
If I already get lost when you look at me, imagine when you smile at me.

You are the reason for my best smiles.

You are that special person who makes me feel a thousand things in less than a minute.

I lost count of how many wishes I made for you to always stay with me.

I don't know, you make me happy.

I have that habit of thinking of you when they talk about love.

The best place I find to sleep is in your sweet hugs.

Since you arrived I don't wait for anyone else.

Now you are my dream come true, you are the great love of my life.

In short… I will tell you that you are my everything.

The fact of coinciding with you in this life is something for which I will always be grateful.

I love you! But it's not that bad, it's forever.

I sense that it is you, what many call happiness.

You are my day when everything is night, you are my music when everything is silence, you are everything in my nothing.
Tips to make a man fall in love with words of love
Never forget the power of persuasion that words have, their influence can help us convey our most beautiful feelings and desires.
Just keep in mind the following two basic tips for you to succeed in the complex world of seduction:
It is not about bombarding your boy with messages to fall in love or seductive phrases;

It is a matter of finding a special moment to give all your love through words.

Keep in mind his personality and carefully choose the best phrase to drive your boy crazy;

remember that each man is a world with different tastes.

Everything is in your hands, trust that everything will turn out well because you will no longer be left without what to say.

You are ready to make love blossom, you will be able to fulfill your greatest love wishes!
Now that you have this great collection of love messages, don't hesitate to use them and thus plan how to seduce a man.
If you try these phrases to fall in love, surely you will have surrendered at your feet and your expressions of affection every day.
Don't wait for more time to pass, show him everything you feel for him and fill him with love through the most original phrases.
Do not miss the opportunity and complement these infallible messages to fall in love with some keys to know how to attract a man in a simple and charming way.