Christmas is probably the time of year that inspires the most feelings of love and peace. If you have a partner at this time, you may already be wondering: where can I find the best Christmas gifts for my boyfriend? What can I give him that is special, original and very romantic?
This is the ideal place to answer your questions.
Keep reading and discover the best tips to surprise your boy at Christmas.
ORIGINAL 

CHRISTMAS GIFTS FOR MY BOYFRIEND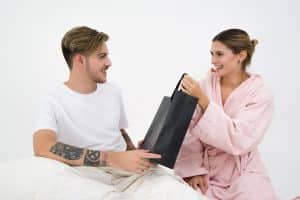 Originality can never be lacking when it comes to giving gifts, so you must use your imagination, and also these ideas that I am giving you here!
#1: Audiovisuals
This always works and you won't have to spend much, just a little of your time.
If you have been a couple for more than a year, you can collect photos and videos of the most important moments that have happened during that entire year, since the last Christmas together.
Of course, it will be very useful if you have many photos and memories to select from.
You can include videos and musical themes that mean something to both of you. In addition, it is not about selecting the photos that have turned out well, quite the opposite.
Remember that it will be something personalized, with which they can laugh and remember moments they spent together, in addition to reliving the love of those little pieces of their history.
So if you have any funny anecdote saved, do not hesitate to include it too!
#2: The best Santa Claus
This trick is very simple and always works great! Get a Santa costume, or his female helper, and get a little sexy for your guy.
You can also invent the design of the costume yourself, but always remember that it must be in the colors red and white.
When you have it ready you can say: "no matter what they give him, I will be his special gift among the Christmas gifts for my boyfriend !".
#3: Christmas Trip
Since there is no better present than a trip, if you have the chance to do it, it would be great, because you will also enjoy the gift that you are going to give him!
They can go to a place that reminds them of a special moment as a couple; such as where they met or where they had their first date.
But, they can also travel to places that are important to them, such as their birthplace or even some romantic and famous place they want to visit.
The important thing will always be that you can enjoy a great vacation together, so there will be no excuses to have a good time!
Have no idea where to go? Well, if you want a little extra help selecting the right place, be sure to check out Unusual places to meet your ideal match   and also Traveling with your partner using Airbnb.
FUNNY 

CHRISTMAS GIFTS FOR MY BOYFRIEND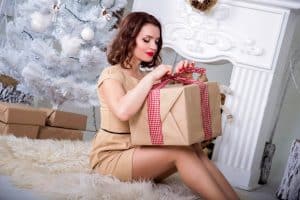 Laughter and fun are two essential ingredients to keep the joy always present in the couple.
So do not hesitate to be a little daring and provoke him a bit on these dates with these ideas that follow.
If you want many more ideas, see also What to get my boyfriend.
#4: Underwear, Christmas gift for my sexy boyfriend



If you live together or have already passed the phase of the first intimate encounters, this is your moment!
Buy something sexy for the occasion, like a short nightgown with matching panties and bra, and all in red and white!
Look in the mirror and think "this will be one of the Christmas gifts for my boyfriend " and create that real role to give him the best night of passion of the whole year.
You can also gift allegorical underwear to dates, and this is very useful if they have not yet had relationships.
Of course, the level of mischief you choose in the design you give her will tell her a lot, so choose well what you want her to interpret!
#5: Christmas Dinner
Family dinners are usually held on these dates, so you can also make a personalized one.
Of course, the objective is not that you give him what is customary for him to eat at Christmas like every year, so you should vary a little!
Play to look for curious figures with the fruits and the salad that evoke the Christmas decorations and trees.
Dress up the main dish as Santa Claus and don't even miss the hat! Decorate the table with lights and other accessories so that nothing stops reminding you of Christmas!
Of course, if you know how to cook it will be easier and, even if you are not very skilled in the kitchen, it will be enough for you to feel like it, you can seek help with a course on how to do it on the web.
Just in case, if you're really bad at cooking, ask someone you trust for help so they can advise you and have positive results with your boy, and not the other way around!
#6: Themed Christmas
Another very interesting idea, especially if you have been together for a long time, is to give your boy a themed Christmas.
How can you do it? Very easy, all you need is a little research.
In each country these dates are celebrated differently, so it will be enough for you to choose one each time.
If they can't eat exactly what they eat in the country you've chosen, reinterpret the dishes a bit and put a little imagination into it.
Of course, again I recommend that if you don't know anything about cooking, ask for help!
HANDMADE CHRISTMAS GIFTS FOR MY BOYFRIEND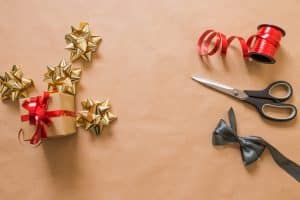 If on those dates when the year is about to end you think: "there is nothing better than handmade Christmas gifts for my boyfriend ", then very good for you!
If you are a little "handyman" or do not have a big budget, keep in mind these interesting suggestions to make a special gift for your partner!
#7: Giant Gift Under the Tree
The gift, in this case, will be you inside a huge envelope. Get a big box, like the ones washing machines come in, and lots of wrapping paper!
You'll need the element of surprise to work, so try to rehearse beforehand.
Plan your strategy, because on Christmas morning he must find his gift with you inside!
Surely you will need the help of someone else who, at least, keeps you the little secret of a giant present.
Or, you can even ask a friend to help you close the box once you're inside; that is, if you haven't invented a mechanism to do it from the inside.
If you live together, you can come up with an excuse like you have to go out or something, so that he can then find his gift: you!
#8: Holiday Cards
There is no better accompaniment to a gift than a nice card, and it can even become the gift itself if there is nothing else.
Look for beautiful ideas and decorate it to your liking, a photo of both of you on the cover can work very well.
Of course, do not go too far in the kitsch, because some girls do value this a lot, but the boys do not.
Your boyfriend probably won't snub you or pout with your card, but try to work on something else.
If you need to understand a little better how the male mentality works in order to win him over at Christmas and every day of the year, check out our wonderful Magnetic Desire Method and see the results!
#9: Chocolates and truffles, Christmas gifts for my boyfriend that he will love



If you like cooking or are a little daring, you can choose to make yourself a very Christmassy gift that involves chocolate: chocolates and truffles.
Normally these sweets are very popular, and you can make a special one for your boy according to his tastes, since the filling can always vary!
Remember that as easy as it may seem, working with chocolate is not easy. Seek help from a professional or consult it on the internet so that it turns out spectacular.
CHRISTMAS GIFTS FOR MY DISTANCE BOYFRIEND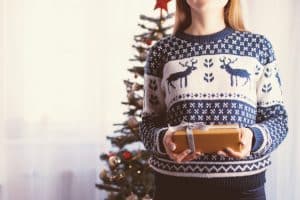 What can be the best Christmas gift for my long-distance boyfriend? How can I surprise him if he is away?
You will have asked yourself these and other questions over and over again if you find yourself in such a situation.
If for reasons of work, health or any other circumstance, you and your boyfriend are in this type of relationship, there is no reason to be overwhelmed!
You will also have the opportunity to give him a wonderful gift if you follow these tips that I propose here.
#10: Poems, songs
This never fails and you can send it by email, Whatsapp, and even post it on your Facebook with a beautiful dedication for him.
Find your favorite author and melt him with love with a special poem.
Choose the performer you like the most and download the lyrics of a song to send it to them.
All this is at your fingertips, but you can also create a message of your own inspiration.
Consult the text How to write a love letter that will be of great help to you.
#11:

Postcards every hour
A pretty postcard never hurts, and if there are 24 of them, much better! Choose the ones that you like the most, that are more romantic, and send them to your boy throughout the day with the help of technology.
Of course, you must be very punctual. Set an alarm to go off a few minutes early so you can be ready to send it at just the right time.
I am sure that with this you will be able to get more than one smile out of him and he will feel that you are closer with each affectionate image.
#12: Messages with the best phrases
This could not be missing, because you can put the best phrases of seduction . Send him one every so often so that he spends all day thinking about you.
#13: Special Photo
If you are a bit more daring you can take a very sexy photo and send it to him to drive him crazy!
You won't be able to dress up and surprise him in person, but no one has said anything about the Christmas photos and videos!
You can become Santa's sexy helper and give him a picture, with which he won't stop thinking!
Of course, always keep in mind the dangers that sending this photo of your intimacy via the internet can mean. Someone else could see it and not just your boy.
#14: A Song For Him
This will be a simple but very emotional gift. If you can't sing, it doesn't matter, but at least try to be in tune.
Select a song that belongs to both of you, or even a Christmas carol, and dedicate it to her when you talk on the phone!
You can still use the radio to do something similar, you just have to call a program and dedicate a song to it. Of course, for it to work, you must make sure that at that time he will be listening to it.
#15: Postal Messaging
If you have the possibility and you know that it is a reliable service, you can always count on the postal service or the parcel service.
Although it seems old-fashioned, it is widely used worldwide, so take advantage of this benefit!
Buy a nice gift, that does not run the risk of breaking on the way, just in case.
Or you can also coordinate with a nearby bakery or flower shop and have them make a special delivery, because not only men give flowers!
#16: Surprise Visit
Of course, there will be no better gift than being able to truly be together. So if you have the opportunity, do not hesitate for a single moment!
You can schedule the visit and tell him when you will go or arrive as a surprise.
Of course, keep in mind that surprises, in these cases, can bring the inconvenience that he has other plans, or even work!
Get good advice beforehand, investigate without him realizing it and tell him all the time that you won't be able to see each other. Plan exactly and then the surprise will be effective.
If you need help in your relationship and not only with the gifts you are going to give him for Christmas, then see How to maintain a long-distance relationship  and also Long-distance relationships pros and cons .
CHRISTMAS GIFTS FOR MY BOYFRIEND BASED ON HIS INTERESTS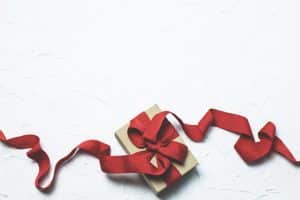 If you and your boyfriend have been in a relationship for a while, it will be easy to give him a gift! The only thing you have to do is search on their preferences and interests.
If you know him well, you will be able to hit the mark with the best possible gift.
#17: Sport
If it's from fans of a football team or any other sport, you have a very easy gift option!
Depending on your possibilities, you can give him a poster of his favorite player, a piece of clothing equal to the uniform used in that sport or even tickets to see a game.
Of course, with this last option, keep in mind that if you are not very passionate about sports, you will have to make a little effort to accompany him and spend time with him, you will see that he will thank you!
#18:

Music
Depending on his interests, music is always a very good gift.
You can download themes of your choice that you don't have and give you a whole extensive folder so that you can enjoy listening.
Even, as with sports, you can give him an article of clothing with the image of his favorite artist or band, an original CD that he wanted to have for a long time or exclusive concert tickets.
#19: Books
If your boy likes to read, you can always find an option to give him a good gift.
Normally, for these Christmas and New Year's dates they make discounts in bookstores.
In addition, you can look for a good text even if it is second-hand, yes, that is not very neglected.
And if it's first editions, you'll give him a priceless gift!
So now you know, do some research about who is the author of your choice, the book you read but would like to have, or the latest novelty that came out and you want to get it, go find that gift!
CHRISTMAS GIFTS FOR MY BOYFRIEND WITHOUT SPENDING MONEY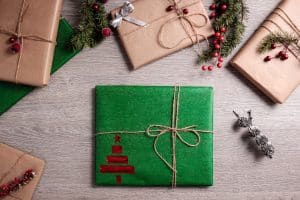 There are many ways to give a special gift and spend little or no money.
So if Christmas is coming and you don't have enough budget to give something to your boy, don't be sad!
There are always possible solutions, you just have to think a little.
I already told you before about the handmade presents, with these you will not spend a lot of money either, and there are thousands of ideas on the web! Here are some other suggestions that will be very useful to you.
#20: Christmas Decoration
What if you turned the whole house into a giant Christmas tree?
Everything around you can be part of the Christmas celebration, and the best part is that you won't need to spend any money.
Look around the house for any scraps of fabric or colored paper you may have, some gift ribbon, or the like. Use pompoms or colored balls, everything can be useful!
Wait for the exact date to arrive and surprise him when he comes home with all this.
If you have colored lights they will help you a lot to reinforce your decoration, but even a simple lamp with colored paper or a fine fabric with striking shades can create spectacular effects.
Remember that, at Christmas, the colors, the silver and gold tones are very much in keeping with the moment and, in addition, they will help you a lot to reinforce the lighting because they reflect the light.
#21: Album of trivia
If you are thinking "I want more original Christmas gift ideas for my boyfriend ", you can also make him a kind of album of curiosities about Christmas celebrations worldwide or the most colorful personalities that have stood out on these dates for something.
If you have a lot of photos of the two of you, you can even put them in the middle of these parties, and thus dream of a trip around the world!
If you need help in other festivities and celebrations with your boy in which you can not spend so much, be sure to also review Ideas for Valentine's Day without spending a lot of money .
CHRISTMAS GIFTS FOR MY BOYFRIEND THAT I SHOULD AVOID
And so that there are no mistakes of any kind, you must always keep in mind that there are Christmas gifts that you must avoid by all means!
So that later you are not going to say "I gave him Christmas presents for my boyfriend that he did not like".
If you want him to be with you one hundred percent, pay close attention to these tips that follow:
Alcoholic drinks
If you do not want to have the annoying and sometimes embarrassing results of drunkenness, it is best not to give him any type of alcoholic beverages.
Already in these celebrations there is usually wine, cider, beers, spirits and others everywhere, so don't collaborate by including one more!
If you have decided on the gift of a good wine that you know your boy will adore and that you will share with him, it is not bad.
But you must be prepared then for the possible consequences of being "pasdito de copas".
Also, an ever-useful caveat: Alcohol can help spark sexual desire, but when it comes to the act, it almost completely inhibits it! So better to have moderation.
Game console
There is no greater competitor for a girl than video games, so if you were wondering: "what are the best  Christmas gifts for my boyfriend and surprise him ", you should discard this option.
If your guy likes them, forget about being jealous over anything, this will totally suck him in!
So it is best that you do not give him something that is related to this. And don't even think about giving him a new game or one that he doesn't have, because you won't have anyone to share your Christmas celebration with!
Even if you like these hobbies too, it is best to leave it for later and enjoy the moment together.
You can already say "I have the best list of Christmas gifts for my boyfriend ". You only have to choose what suits your tastes and the particular circumstance you have as a couple.
Always remember that the best gift will be the one that comes with love and total dedication, the one that you can enjoy together, and not the most expensive in money.