Are you looking for an original, special and meaningful present for the day of love, but you don't have many ideas? You are in the right place! Then I will share the best and most creative crafts for valentines.
The best gifts are not always the most expensive; Generally, the small details fall in love, enchant and surprise.
Do you dare to challenge your imagination and create, with your own hands, the detail that will melt your partner with tenderness and express all your love?
If the answer is yes, continue reading, take careful note, get to work and give your gifts a unique and personal touch!
Easy Valentine's Day Crafts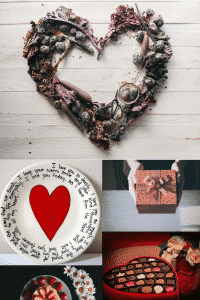 If your thing is simple and easy to make gifts, but full of love, I have the solution for you!: A list with innovative alternatives for you to surprise your boy on Valentine's Day, take a look!
1. Plate of love
To make this simple craft, you only need a white porcelain plate, a special pencil or marker to write on ceramics and your inspiration with Love Poems.
The idea is that you write a beautiful message of love in a circular shape, from the outside in, and in the center you could draw a red heart or whatever you want that refers to February 14.
For this I recommend you see the article «Love messages for my boyfriend«.
The most important thing of all is that you prepare the decoration of the plate with great care and think about their tastes and favorite colors, although it would be convenient to use only two shades: red and black, to combine with the white color of the piece.
Once you have your personalized gift ready, maybe you should buy or prepare a delicious dessert to impress him twice.
2. The flame of passion
What should you get? It's simple!: a candle and some tool to carve it; the intention is to mark the candle with the initials of the name of the man you love and yours, the rest I leave to your imagination.
The letters can be enclosed, for example, in a heart and then go over the line with a bit of vinyl to give it color.
Finally, put a ribbon on it and plan to light it on the romantic evening of Valentine's Day, apart from being a beautiful decorative object, it is an alternative to reaffirm love and seal it with fire.
The secret of good relationships lies in commitment, effort and good communication, as mentioned in the text of dialnet.unirioja.eswhose theme is fidelity and commitment.
3. Open it when…
Never underestimate the power of words. The phrases to fall in love or a voice of encouragement, can change a person's day, even more so when they come from a special being.
If you don't know what to give him on the day of love and you want to make him melt with love, opt for this alternative! All you need are several envelopes and a lot of inspiration to write letters depending on the occasion.
For example, you can write a letter for when he is sad, another for when he is happy, one for when he has achieved a milestone, and so on.
Your partner will appreciate that you care about their emotional state; In addition, with this small detail, you will show him unconditional support.
Go ahead and start writing the letters! Then mark each one of the envelopes in this way: Open it when… (the occasion); It's an easy gift that will earn you points by the bucketful.
Remember to bet on creativity when making the envelopes and write the letter by hand with legible handwriting; You will see their positive reaction!
Did you like the crafts for valentines What have I mentioned? There's even more, keep reading!
4. Surprise news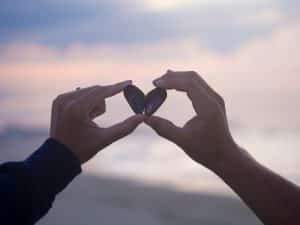 In case you want to make him fall in love more than ever on Valentine's Day, surprise news will be your best allies.
The key is to distribute love news throughout the house; in the bathroom mirror, in the bedroom, in the kitchen, on your computer screen, etc.
You more than anyone know which are the spaces of the house that he frequents the most and make him very happy every time he reads one of your little messages. Do your best to have them in a different color and style, be inventive!
Original Valentine's Day crafts
Who said that gifts for Valentine's Day could they only be romantic, with heart shapes and chocolate bonbons?
Innovate, refresh the typical February 14 a little, leave the traditions aside and lean towards the crafts for valentines original and do not forget that the most valuable details are those thought with the heart.
Take a look at the following options and choose the best one!
5. Mini memory album
Isn't it wonderful to bring good memories to your boy's memory on Valentine's Day? How about you make a mini photo album and evoke some of the best moments you have shared together?
First of all, you must select the best photos, print them and creatively prepare the album.
There are many ways to do it: choose a good material, the right colors and get to work. Do not forget a new packaging or a box so that your gift is the best.
6. Valentine Coupons
On the day of love, pamper him to the fullest and prepare some coupons so that he can redeem all kinds of activities; for example, an afternoon at the movies, a massage, a romantic dinner, a delicious breakfast, a walk on the beach, a night of passion or whatever comes to mind.
You can make the coupons yourself with a little creativity and ingenuity or download a template and decorate it.
Perhaps this detail seems very simple to you, but it is quite valuable because both of you will enjoy it with those romantic plans.
You know him more than anyone and you know how to impact him!
7. Box of the five senses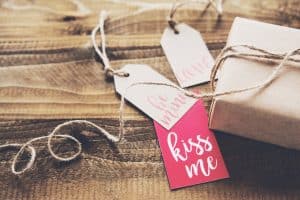 This particular little box, in addition to surprising him, will stimulate each of his five senses. What do you need?
A medium box: you can buy it made and decorate it to your liking.
5 elements to activate your smell, taste, touch, sight and hearing. My recommendations are: photos, sweets, a rich aroma or perfume, a record of your favorite artist or a compilation with your favorite songs and something sexy that you can play. The rest I leave to your imagination!
In addition to the above, you could consider preparing a letter (for this I recommend the article "Love letters to my boyfriend") or surprise him with an affectionate message.
If you liked the crafts for valentines that I just shared with you, you will surely like to know the best romantic ideas for valentines
Remember that the love bond is an opportunity to grow, as mentioned in the text of biblat.unam.mx and this is also achieved with the special details.
Also, if you want to know how to drive any man crazy and arouse his curiosityI recommend that you consult the Magnetic Desire Method and wake up a tempest of desire in the mind of the boy you love.