To know for sure how to excite a man and provoke him intensely, it is vitally important that you know what this pleasant term refers to.
First of all, you must bear in mind that arousal is the body's first response to sexual desire, which is triggered by a series of sensations and conditioning, both physical and psychological, such as a subtle caress, a kiss, a look or a smell.
And secondly, you must never forget that the factors responsible for arousal vary from one man to another.
However, I recommend that you read the following article published by fertilab.net in which you will learn about male arousal.
At the end of the reading, you will know how to identify the weak points or erogenous zones of men and stimulate their senses to excite your partner to the maximum, both in a subtle and mental way with words or delicate touches, as well as directly in intimacy.
How to excite your boyfriend?

Get to know his erogenous zones!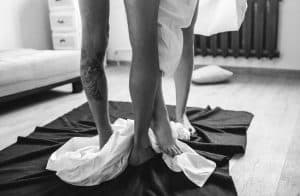 Erogenous zones are those areas of the body that are most sensitive to stimulation and cause sexual arousal.
Men, in addition to the genital organs, have body parts with a greater number of nerve endings, which implies new possibilities to strategically intensify his desire and drive him crazy.
Would you like to know what is the button you must press to activate the brain and thousands of sensations in your man?
It's simple, know your erogenous zones: hidden secrets of male pleasure and start seduction games, the possibilities are endless!
You can also supplement by reading how to influence a man's mind.
Now, let's start the tour!
Scalp
A light hair massage, to begin with.
Remember that the head is full of nerve endings, which will relax him, but at the same time it will trigger his hormones and with it, his fantasies; a big step to know how to excite a man.
eyelids
Gently close his eyes, kiss and caress his eyelids, it will be a new but pleasant experience for him!
By closing your eyes and feeling so close, your imagination will fly and the expectation will make your excitement increase.
Ears
Your boy will instantly react to your caresses, kisses or gentle bites on his ears.
The lobes are very sensitive, so take advantage of this fact and increase your partner's libido; also if you whisper a couple of phrases with sexual connotations in his ear, you will stimulate him to the bone!
Lips
It is an obvious place because it all starts with a good kiss, but I couldn't help but bring it up in this list of erogenous zones because, according to research, the lips are the second most reactive zone and the one that produces the highest degree of arousal in men. mens.
neck and nape
The ends of the neck can be your best allies, a gentle caress or a series of kisses on your collarbone, will make the situation go up.
To excite your boy more you can combine the stimulation of his earlobes with neck massages, passing through his neck and slowly rising to his scalp.
Continue with these steps to learn how to arouse a man.
pecs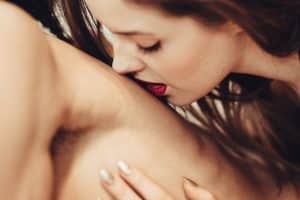 In this area you can stop for a long time, there you can put your creativity to the test and what you do will be decisive to multiply your excitement.
Kissing, biting, licking, massaging and using countless tools related to body language to enhance sexual energy.
He will love that you slowly cover both his pecs and his shoulders, his abdomen and his pelvis.
His nipples are also extra sensitive, so if you play with them, you'll turn him on the inside! That way you'll know how to arouse a man.
low belly
Concentrate on his navel, look at it mischievously, go down and up with caresses and kisses but don't go as far as he wanted. The wait will excite him even more.
The answers regarding how to make a man aroused, based on his main erogenous zones, will be found in his own body, reactions, movements, and words.
inner thigh
Arouse his passion and make him explode with pleasure just by rubbing his inner thigh.
Do you want to check it? It is a matter of your fingertips doing their thing in this area and you provoke it with caresses.
Ideally, you would start at her feet, another very sensitive area, and work your way coquettishly up her legs, into the back of her knees, her thighs, and touch innocently, as if by accident, in between.
And you know what I mean! The degree of sexual tension that accumulates, in the previous moments, will be proportional to the pleasure that you will feel in releasing it.
Perineum
Key point and mandatory exploration if what you want is to excite without limits, since the perineum is the part of the genital area that most concentrates nerve endings.
It is located at the back of the scrotum and is highly excitable; The fast-paced massages will make you hallucinate with satisfaction!
You'll leave him stunned and wanting more, so you'll see that you're on the right track to knowing how to turn a man on.
genital area
The perineum, mentioned above, along with the scrotum and glans, are considered important areas that you should emphasize when it comes to causing much more than a rapid heart rate or a bad thought.
7 steps to turn him on without touching him

Knowing how to arouse a man without touching him is absolutely doable, but you have to be an expert visual stimulator and try out the different language options.
Would you like to know how to seduce him without a single touch? Take a look at these 7 steps, they will teach you to speed up his senses!:
Dress sensual:

Physical appearance is essential for a man, what they see is decisive and can excite him greatly or, on the contrary, incite him to look the other way.

You must take care of your appearance, seduction is an art! Don't throw it to chance.

Choose a sexy garment that accentuates your beauty, it can be a dress where you show off your arms and legs or some other tight garment that leaves much to your imagination.

Whisper something to him:

Don't get too close to his ear, but close enough for him to hear what will inevitably excite him.

With just three thoughtful words and the right tone of voice, your man will feel a rush of emotions and sexual energy running through his entire body.

Without a doubt this is a very important step to know

how to arouse a man

.

Intense eye contact:

Stare at him and let him know your intentions;

flirt with your eyes, go all over his body, and combine this seduction trick with the expression of the rest of your face.

You'll have him charmed and aroused in seconds, men love naughty looks!

Hot messages:

Get out of the routine and surprise him with a message or call that immediately shakes him, his mind and a couple of other parts will be excited.

In addition to the written or voice message, you can send him some suggestive photos, unleash his desire in a simple and effective way!

Learn more by reading Male Desire Uncovered.

Show him some skin:

Do you want to see him agitated, excited, and thirsty for you?

Let him see some skin!

Make it look casual and unexpected, but make sure it's suggestive.

It is not that complicated to get a man's attention and arouse his sexual desire without touching him.

Your guy will love seeing your navel and belly, and he'll also be crazy about spying on your lower back or any of your tattoos, if you have one.

He will not stop thinking about what he saw and will hardly get you out of his mind, so you will understand

how to excite a man

.

Use body language:

caress your hair, bite your lip, smile delicately, go over some parts of your body while you look at him, come closer when you are talking to him, cross your legs;

In a few words, take advantage of situations and try to give him many reasons for his thoughts to connect with his body and get excited just by looking at you.

Find out more in Female Body Language.

Let him know that it turns you on to have him around:

As soon as your boy senses that you are turned on, that simple reason will turn him on ipso facto.

Letting them know is not a cause for concern;

there are two options: either you tell him explicitly or you insinuate it, he will be able to notice it without much effort.
How to arouse a man in bed: tips and recommendations
After learning about male erogenous zones and knowing what turns him on without actually touching him, it was time to consider arousal on a more intimate level.
The tips and recommendations that I mention below will help you strengthen your knowledge or instruct you so that you understand exactly how to arouse a man in bed and dominate the situation.
If you want more advice, I recommend you read how to seduce a man.
Feel it, touch it and kiss it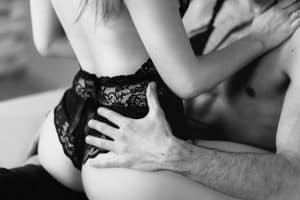 Physical temptation is an excellent seduction tactic; tease him, pretend you don't know he's watching you, and move, eat or talk sensually, you'll keep him fascinated!
And if you add a good dose of caresses and kisses to the above, you will instantly turn him on! You will already notice or feel it and this will be the definitive signal for you to go to the next level.
You must not forget that the previous moments are essential because they function as a prelude to the intimate encounter, and predict its success or failure.
Make sure that both are comfortable with what is happening and always show a lot of security.
dance for him
It does not matter that you are not a professional erotic dancer, what matters is the attitude and sensuality with which you move. The underwear you choose for the occasion will be crucial.
This trick will excite him yes or yes; In addition, the surprise is going to be heart-stopping, he will feel very exclusive and will not let you go from his life so easily.
Novelty is always exciting, so dare without fear and make your boy happy!
If you think you need help with dancing, read this article published by Let's Learn to Dance in which you will learn how to achieve it successfully.
Massages with oils  
Is there anything more relaxing, pleasurable, and sexy than an oil massage?
The mere fact that you are so close, slippery, and with little clothing, will cause strong episodes of arousal.
I recommend that your massages be slow and include many areas of his body, he will not be able to resist so many stimuli together! This way you will know how to excite a man.
temperature changes
Your partner is likely to become very aroused as they experience gradual changes in temperature.
One idea that may work is to run an ice cube over his back or chest, then lick it off with your tongue and finish off by warming the area with your breath.
It is a sensation that the body assumes with great intensity and because of this, it will vibrate!
Fulfill your sexual fantasies
Listen carefully when he confesses his hidden fantasies to you and try to fulfill some or all of them, as much as possible.
Pleasure has no limits; try exciting him with a costume, role reversal, or sex toys.
Men love women with an open mind because they are not self-conscious in any way, they are not afraid of new experiences and they are aware that sex is an exercise in reciprocity.
Turn up the temperature with your lingerie!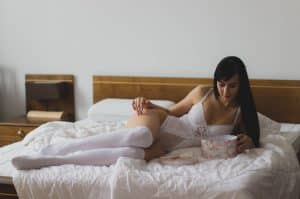 By wearing sexy underwear, you are sure to turn up the temperature and his arousal levels!
Try not to be typical and common; go to a specialized store and allow yourself to choose, without fear, clothes that make you feel comfortable with your body, there are thousands of options!
You just have to take the risk and visually delight your man with a sensual bodysuit, garter belts, lace, a corset, transparencies, or provocative pantyhose.
Try new poses
Investigate new positions, take the initiative, give a surprising turn to the situation and excite him to the maximum with innovative positions and movements.
In addition to this, I recommend that you vary the place of the sexual encounter, it does not always have to be in the room, in the dark of the night, and in a traditional way.
Activate your creative side, let your imagination run wild, and remember that you are in control!
hot shower
Hot water, soap, foam, your naked body, wet and slippery, are words that answer the question: how to excite a man?
Do not hesitate and take a shower with your boy so that you can verify my statement, both of you will enjoy that unforgettable bath.
words and sounds
Express yourself! Don't hold back and let him know how much you want him, how good he is in bed, or what you want him to do to you.
Words, like sounds, have a strong influence on the male mind; therefore, a couple of "dirty" words, unusual or that indicate desire, do not dislike your partner and, even more so, if you want him to be aroused.
Finally, keep in mind that to know how to excite a man, it is important that you know his tastes and desires.
Learn more by reading How to Make a Man Want You Naturally.
However, the male gender is very predictable, and interpreting his mind does not represent much difficulty.
Take advantage of my data, recommendations, and tips, but if you have any doubts, consult the Magnetic Desire Method and complement it with The Formula of Phrases, you will become an expert seductress and great connoisseur of the best-kept secrets of men!!