You want to know how to get a guy's attention in social networks And you do not know? Have you seen someone who has stolen your breath on social networks?
The Internet not only helps us stay close to all our loved ones, but also allows us to meet new and interesting people.
if you wonder how to get a guy's attention in social networkshere you will discover all the secrets to achieve it.
Finally, social networks are no longer considered unusual places to meet your partner On the contrary, they are very common.
Captivate all his attention to attract him to you taking advantage of social networks
I will explain to you every detail on how to make yourself always present in his virtual world, how touches, likes and comments can bring him close to your direct messages.
That boy who has caught your attention: you can attract him without any problem.
Learn everything you need to know how to seduce a man online step by step!
It's time for you to steal his breath away.
HOW SOCIAL NETWORKS WORK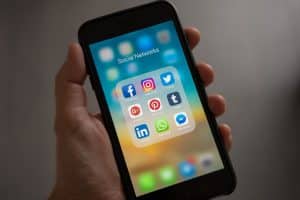 Social networks are designed to always show us what is most interesting to us, filtering a huge amount of content to ensure that we want to be online as long as possible.
They allow you to show the virtual version of you that you want to design.
Knowing how the social networks you use work will allow you to get the most out of them to get the attention of the boy you want very easily.
We will focus on Facebook and Instagram, as they are two of the most popular platforms.
But all these points are applicable to the rest of the social networks you use: Twitter, Badoo, etc.
Facebook emphasizes interaction: always showing you what your friends do, what they comment and share, the new relationships they create.
It's all about connection
Facebook is always looking for you to see what others do to invite you to interact more.
Instagram on the other hand, is more dedicated to showing you everything that you may find interesting.
With this, it takes into account not only what you like, but also what the people you follow like.
In the same way, if you want to know more about the networks, I recommend you read the text of dialnet.unirioja.es, so you can learn more in depth.
THE BASIC RULES TO FOLLOW
1. Your profile picture
Nothing to put photos of your pet, your favorite character from the movie, series or anime that you like; no phrases, etc. It must be a photo of you.
When interacting, which we will see later, social networks will show a notification with your profile picture.
This is practically your brand, so choose it carefully as it may be one of the female seduction strategies.
It may be a photo taken by yourself, but a photo taken by someone else reflects more characteristics of a social person than a "selfie".
2. Your privacy
The rest of your profile is the second part in how you reflect your person in social networks.
All the content you put online and share with others projects certain personality traits.
You have to become familiar with how to keep everything that you think is not convenient for you private, all without giving the appearance of being a closed person.
Facebook is the network where this is most important.
Reflect for a moment and ask yourself if there is something that could discourage the interest of the boy you have in your sights: Perhaps those memes of "all men are equal", make him think that you already have a very fixed position on the opposite gender and not I want to try to get closer to you.
3. Instagram is something different
There you can have the option to have a public or private profile.
In private profiles, other people can only see your profile photo, the number of people who follow and follow you, the number of photos you have uploaded, but not the photos.
Of course, a public profile helps a lot to how to get a guy's attention
You can browse freely and learn more than you reflect: if you have similar hobbies, how social are you, etc.
But of course, many people feel that a public profile is something very exposed. They like to share, but only with a select group of people.
If you have chosen your profile image well and follow the rest of the tips that you will see later, even if you have a private profile, you will have your request to follow you very soon.
To know how to get a guy's attention in social networks it is about thinking about which version of you he will see that captivates his interest.
To know how to reflect those qualities in such a way that you attract whoever you want, just take advantage of all the knowledge and techniques of the Magnetic Desire Method.
KNOW YOUR PREY: USE ITS PROFILE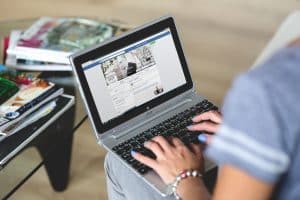 We have already talked in different articles about the importance of knowing a little about the person you want to captivate their attention.
Fortunately, social networks have done a very good job of making their users comfortable with sharing just about anything.
inquire
What tastes do you have? What is the content you share the most? What type of accounts do you follow?
doHow to get a guy's attention in social networks? It simply reflects what he projects!
On Facebook you will be able to learn about all this in a more orderly way, and thus you will be able to interact with him in a better way, commenting, for example, assertively on his favorite movie or sharing the same type of humour.
Rather, with those phrases to captivate a man According to your tastes, your interest will grow naturally if you perceive that you have a lot in common.
On Instagram you will only have available what is on your profile. By following him you can see what he is interested in from what he likes.
Viewing their profile externally, i.e. without adding each other, may prevent you from seeing the big picture. But this is something that has a solution…
THE FIRST CONTACT
The first contact can be a simple like on a photo of you or a reaction to a post or comment.
But, to further spark interest, you'll need to have a little more presence.
This may be easier on Instagram. Sporadic likes and comments often enough that they feel like a reward for what they share.
If he starts following you, give him the same gesture. If you notice that it takes a while, you can follow him so that he returns the gesture.
You can remove it later, no problem with that.
The important thing is that he follows you to take advantage of the algorithms used by each social network to have an even greater presence.
HOW TO GET THE ATTENTION OF A GUY ON SOCIAL NETWORKS WITH LIKES AND REACTIONS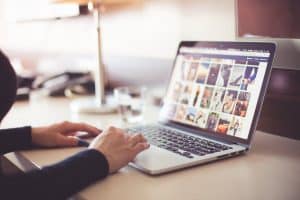 Here comes a key part, the secret of how to use social networks to your advantage, especially if you want to know how to find a partner online for these networks.
As we have talked about before, both Facebook and Instagram have different ways of keeping their users interested and connected most of the time.
On the Facebook website you can find at the beginning, a constant thread of movement: if someone liked, reacted or shared something.
This can also be found more quickly and neatly in the bar on the right.
On Instagram, most people spend a lot of time in the explore section. There Instagram offers everything that you think the user might like, that includes what your friends like.
Rest assured that if you like something, it will appear in the explore section of the boy you are interested in.
How to use this in your favor? Simple…
Showing common interests
Same sense of humor, similar lifestyle, sharing musical tastes…
No person is really the same as another, so meeting someone with similar tastes can arouse our interest.
It's familiar enough to call something in us and with a touch of difference to pique our curiosity.
Showing competition: Have you seen that something that everyone wants is more attractive?
Psychologically, people attribute greater value to something or someone who has social support.
Take advantage of this psychological trick by showing how other people are interested in you. Like or reply to some flattering comments that other guys make to you; Of course, within what you feel comfortable.
TAKING YOU TO DIRECT MESSAGES
There is a different level of interaction when talking to a person, it is not the same to do it in a public space surrounded by people, to one where there are only two.
This difference is also felt in social networks. Posts, comments and more are given in a space that is visible to everyone.
If there is something important that you must understand to know how to get a guy's attention in social networks, is that there is no better option than direct messages.
Don't know how to do it? Don't worry! Know the following 7 secrets to seduce a boy by chat and that's it:
Once interest grows enough, that's where you can fully captivate him.
By being in a more comfortable and intimate environment, even if it is virtual, you have all the tools to achieve the goal you set for yourself.
Conquer it? Of course you can! You just have to know how to flirt by chat.
If you don't know how to do it, there are some phrases and ideas that can help you win a guy.
For example, you can use the Phrases to fall in love with Facebook verified. Dare yourself!
HOW TO GET THE ATTENTION OF A BOY THROUGH SOCIAL NETWORKS AND MAKE HIM FALL
So there you have it: all those little details that will go a long way to get their attention.
From how to take care of the image you give, to how to use the algorithms of Facebook and Instagram to make yourself present and captivate their interest, whether you are online or not.
Knowing a little more about other social networks and with a pinch of creativity, you will be able to identify how to get a guy's attention on social networks, regardless of whether it is Twitter, Badoo, Google Plus, Pinterest, Snapchat, Periscope, etc.
Almost all social networks have similar ways of filtering and displaying content.
With all this you can ensure that you will show a version of yourself that will impact him!
Surely these are keys to conquer.
The last recommendation I want to make is that you be careful with these sites.
Remember that prevention is the best option.