Do you like a boy very much? Don't you know how to approach him and conquer him? Well look no further, here I am going to give you the best tips so you can learn how to make your crush fall in love.
The first thing I recommend, before moving on, is that you consult our Love Interest Calculator which will give you the initial clues about what that boy could be feeling for you.
From that starting point, I am going to leave you with a series of useful tips that will help you approach that boy and win him over.
#1: Check if he has a girlfriend before doing anything else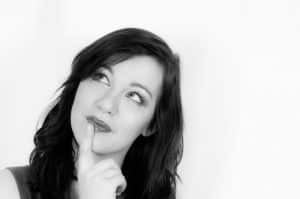 First of all, there is something that you should check before moving forward because it can hinder or completely prevent you from conquering your crush.
Find out, if you haven't already done so if your platonic love already has a partner.
If you don't have one, you can go ahead with confidence by applying the other tips that I leave you here.
If this guy has a partner, you should change your strategy based on knowing how to conquer your crush if he has a girlfriend.
It is very important that…
Be sure of what you are going to do because remember that you will be meddling in the middle of a relationship.
Think carefully if it's worth it, because surely someone will be harmed, or more than one person!
Meditate first on the possible consequences, even on yourself, because later this story with you in the middle of your crush and his girl, can play a trick on you.
You probably have millions of chances with other single guys, who are sure to have a lot of qualities that you'll like.
Remember:
Perhaps because you are a little infatuated or blinded with your platonic love, you have not looked around you and this is the perfect opportunity to do so.
After this initial reflection, if you still want to continue and fall in love with this guy, then go ahead!
You only have then to know how to do it, and for this, I recommend that you learn without delay how to seduce a man with a girlfriend.
#2: Investigate him as the best detective
Before any attempt to conquer a boy, you should always do a preliminary investigation.
Nobody jumps into the abyss without knowing how deep it is, so don't let yourself fall into the void just like that!
You have every chance of failing if you don't spend enough time observing and digging into various aspects of your crush.
Special recommendation:
You need to find out what he likes and dislikes first so that you can then work on it by establishing common ground between the two of you.
In this way, you will be able to know what to talk about when you are with him, how to approach him without feeling it, little by little, and many more things that will help you make your crush fall in love!
Take the time you need and use everything you can.
Some ideas to help you get started:
Observe everything you do, very discreetly and in a "casual" way.

If you study or work together you will have more time for this.

Find out about the places he frequents, where he lives or has lived if he has pets, or what his family is like.

You can even try to follow him to have access to this data, but yes, you must manage to do it with the greatest discretion because if he discovers you, you will look ridiculous.

Ask people who know him, friends, and family who can help you and are willing to do so, or even innocently, as if you don't want anything with him and you bring up the subject "by chance".

Check their social networks and their profiles on Facebook, Instagram, and whatever comes to mind!

Look at what he posts, what groups he's in, the things he shares, everything can be useful to you!
#3: How to make your crush fall in love, be friends with their friends!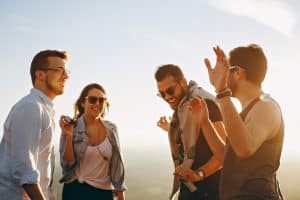 I already told you before that a great option to learn more about this boy and get to know how to make your crush fall in love is by looking for information among his friends.
It can be useful for this initial investigation, but also to be closer to him.
If you manage to establish a friendship with some of his friends, it will be easier for you to reach him and be friends with him.
In addition, you will have a perfect excuse to go out with him, because they will go out with the same group of friends.
You will be able to enhance the time to talk to your crush and like him, so that both of you feel comfortable sharing.
And something very important, this closeness will help you discover if he actually has a good time with you, and this will be crucial!
#4: Show disinterest, but only in appearances
One of the things you need to do to make your crush notice you is learn to downplay the matter a bit.
What do I mean by this?
Very simple: I am sure that you have this boy on a pedestal, you feel that he is incomparable with no other and you even idealize him a little because you see him as your perfect partner, the man of your dreams.
None of this is bad it is completely normal.
When it comes to platonic love it is almost "regular" that you believe that this boy is almost perfect.
However, and this is important that you understand and apply it immediately, your crush should not know, for any reason, that you feel this way about him.
Bonus tip:
The best of the techniques, in this case, is that you show some disinterest or indifference, at least at the beginning.
Treat this boy normally and don't give him so much importance.
Let nothing make him believe that he is the center of your universe and the person you sigh for and you stay dreaming awake at every moment.
Commonly, we want to have what is not ours, that we want someone who ignores us or does not pay attention to us.
And on the contrary, on most occasions, we underestimate who we know is there for us, who loves us.
Remember…
We want the insecure, the uncertain, simply because it makes us curious.
On the other hand, what is safe is relegated because we assume that it will always be there.
How many couples, for example, has it happened that only after separating do they begin to value the person next to them?
In the case of the game of conquest and seduction, the same thing happens.
If your special guy sees you drooling over him, chances are he won't even listen to your offer.
So control your desires and do not show your passion if you want to learn how to make your crush fall in love.
#5: Be patient, never lose your temper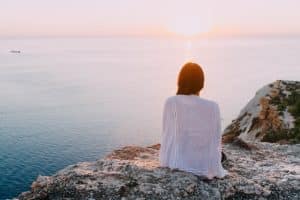 And this tip is closely associated with the previous one.
To achieve everything in life, my friend, you need to develop a very important virtue: patience.
And when it comes to conquering your crush, it is crucial!
You must know how to wait for the right moment for each step, even for what I am showing you here.
Going ahead of the natural flow of events can precipitate a result that will not be the desired one: you can drive him away forever, lose the possibility of being with him.
Also read the article on redalyc.org, where the topic of current relationships is addressed.
#6: Don't forget to be you without pretending to be someone else
Many people, when trying to conquer someone, make the biggest mistake of all: pretending.
It is clear that when you approach someone and try to make them fall in love, you must always show the best version of yourself, but you cannot exaggerate either.
It is not the same to say that you like sports to have a point in common, or that you saw that game he is talking about than to say that you are a fan of the same team as him and that you do not miss any of his games.
This could be very counterproductive, because imagine that suddenly you are his partner and every game you have to watch with him and pretend that you like and know a lot about that sport
Or that, in the extreme case, you hate that particular sport and you only said it to create empathy, but for the next date, he has bought two tickets to go see a live game, of those that last hours!
You won't be able to sustain your lie, not when it reaches those levels.
I am going to tell you a brief story to better illustrate this:
I have a very close friend who, when she was young, felt very insecure about a particular aspect of her physique: her breasts.
Her biggest dream was to have surgery and increase her bust a couple of sizes more.
It was all I wanted to be happy.
To look better, according to herself, she always wore bras that increased her bust.
It happened then that she met a man, someone special.
My friend wanted to impress him and, of course, those bras were not missing from her appointments with him.
Everything was going perfectly until it was time to move on to other phases in the relationship and have more intimate contact.
What happened then?
My friend avoided this by all means, although she was dying to be with that man, she couldn't let him see her naked and with fewer sizes, she would reveal her secret!
She wanted to wait until she had the operation to be perfect for him, but she didn't have enough money to do it.
After a while, that wonderful man thought there was something wrong and things started to go a little wrong.
As a result of that inconvenience for my friend, which also affected the trust in the couple, they distanced themselves and the relationship was about to end.
Unable to bear this situation and because of his insistence that she explain what was happening, in order to help her and solve everything, she finally confided in him her insecurities about her appearance.
How does the story end?
Of course, although at that very moment he didn't tell him so as not to ruin the moment, this man had already noticed that something was wrong with my friend's breasts, because there are things that cannot be hidden for a long time no matter how hard you try.
The understanding became an intermediary between the two, fueled by the love they felt.
Then the day came and they both made love for the first time.
My friend was a little sad that her boy knew, but little by little she got over this, because she was herself again.
He discovered, finally, that this man had not fallen in love with his figure, although this helped a lot, but with his soul.
Meditating sometime later, he realized that he was about to ruin something wonderful in his life, just by appearing to be something that he was not, in this case in a specific part of his body.
In the end…
My friend never had her breasts operated on. She now lives happily and proudly of what nature has given her.
Do you understand now what I want to explain to you?
The best thing is that you always try to be yourself, with some tweaks that even later he can see that they are not such, but he does not care so much.
Focus on things that can really impress him without losing the essence that identifies you.
Check out these ideas!
Show him how wonderful you are, be authentic.

You're a great girl, and you can make him see that without much effort, just by being you.

Display your skills and your positive qualities, learn the 5 keys to conquering the man you like, and how to attract that special person.

Show your fun and charismatic side, where you enhance your sense of humor and your desire to live happily.

Men highly value this in a woman to have her as a partner in life.

Be friendly and try to be the best company for him.

Be nice, be accessible to love.

A pleasant company is the best incentive when you are with someone, it is the most pleasant way to connect at all levels with your partner.

Always smile and don't be grumpy.

With this simple gesture, you will make your face light up and you will enchant everyone around you.

We are all more beautiful when we smile, and it will be an excellent way to understand

how

to make your crush fall in love

.

Share your tastes and foster the bond that unites you.

Remember that, as you get to know him more, it is important that you get closer to him and manage to create affinity and empathy.

He shows interest in her life and things, but a real interest!

Listen to him, let him talk to you about what he wants without judging him, let him vent if he wants to, and never forget what he tells you.

Be Sociable, share time with him and enhance closeness.

Remember that to

 make your crush fall in love you

first have to appear on his map, he has to know you and you have to know him.
Talk, get close, be nice and honest. Use everything you have in your favor to conquer him and learn how to make a man fall in love according to his sign.
#7: Subtle flirting without going overboard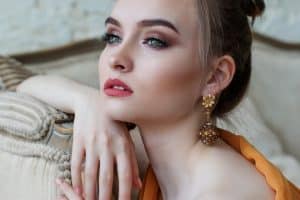 Another helpful tip to follow is to start the flirting phase.
Of course, I already told you that you must be patient and know how to wait for the right moment, never before time!
Go measuring your actions and checking how you respond to this, it is the key to success!
Look at these tips that I propose, below, to help you conquer your crush

:
Don't lose the mystery, always try to keep a bit of that circle of the enigma that surrounds women so that you want to know more.

Control your nerves as much as you can, don't let them play a trick on you.

Take a deep breath and relax in a situation of stress and a lot of emotion due to the closeness of this boy, or you can ruin it without remedy.

Act confident and confident of yourself, there is nothing that men like more than a girl who knows what she wants!

Compliment him from time to time, when it's worth it.

If you make him notice that you like something or that you realize when he does something well, you will elevate his manhood and they love that.

Create complicity between the two, give him a mischievous smile, surprise you by looking at him furtively, he will wonder what you want!

Do not neglect your body language to win him over and make him understand what you want, but also do not forget to notice how his body is responding to this.

Discover the importance of body language and learn a little more about male body language the secret to conquer
Also, learn how to know if he likes me
How to seduce your crush through social networks: Final advice
Social networks can be a very useful tool in the age of modernity and new technologies, so you can't miss out on them!
Learn how to get a boy's attention on social networks and use these tips that I leave you now:
Be natural and casual when contacting him on social media.

Be clear in your messages if you want

to make your crush fall in love on WhatsApp

or any other messaging system, you don't want them to get the wrong idea.

Find a good excuse to talk and start the bond in this way.

Prepare possible topics of conversation that are enjoyable to keep the conversation flowing.

Their tastes and hobbies can give you many ideas.

Don't forget your sense of humor.

Learn how to flirt by chat.

Use your statuses and profile photos to get his attention and make him see the best of you in terms of physique.

Do not give wrong ideas with your photos and messages, do not think that you are desperate to conquer it.

Do not be overwhelmed if he does not answer, be patient.

He may be busy or may not have seen your messages.
To learn more about love and new technological tools, I invite you to consult the article on scielo.org.mx
And with all this, you already have more than enough to start working little by little, step by step, and make your crush fall in love.
It only remains for you to put into practice what I have shown you here.