Surely it has happened to you that you want to give your boyfriend something romantic and original, but you don't have a penny!
And it is that knowing how to surprise your partner without spending money can be, sometimes, one of the most difficult things to do.
Just the fact of giving something to your boy can be complicated, because they, for the most part, do not express their feelings as clearly as girls do.
And if you don't have enough financial capital, then you already have a problem!
But don't worry, here I am going to give you some tips that, accompanied by practical ideas, will help you make a present that makes him happy to be with you.
And do not get overwhelmed with the issue of money, think that the most important thing is not how much the gift cost you, but the love you put into it and the time you have dedicated, indirectly, to your partner in making it.
So now you have the solution: keep reading and discover how much you can do for your boy without spending a lot of budget!
DETAILS ON ANY OCCASION
It is important that you do not miss significant dates as a couple.
Life has become so hectic that we do not realize that we have forgotten an important day for both of us.
An anniversary of dating or married, Valentine's Day, a birthday or any other date of interest for both of you is vital that you do not leave it forgotten.
I recommend that you read   How to surprise my boyfriend on his birthday so that you have other tips, and also Ideas for Valentine's Day without spending a lot of money
You will see that they will be very useful to you!
To know how to surprise your partner without spending money , keep in mind that remembering is already a gift.
Keeping in mind that special day that remembers something important for both of you is a gift in itself.
So if you have problems with the dates, write them down on your cell phone or on a calendar and set all kinds of alarms so you don't miss them!
In any case, these dates are usually a few times in the year, and you do not have to wait for something to be celebrated between you to give a special gift.
Any occasion is important when it comes to giving.
If you feel in love with your boyfriend, if you want to light up the flame of love a little, if you want to give him something for no reason: go for it and discover how to surprise your partner without spending money !
HOW TO SURPRISE YOUR PARTNER WITHOUT SPENDING MONEY WITH YOUR IMAGINATION
It is very easy to give something away when you have money; You go to a store, you get a little advice, and you buy him something expensive and that he will surely like.
But when you don't have the monetary means, or can't spend it on that gift you know he would like, you have to work a little harder!
If you do not have money yet, you have a weapon that will never leave you but that you have to know how to use: your imagination, and thus you will know how to surprise your partner without spending money .
It's just a matter of thinking a little about what you are going to give him and why.
There are many options that you can have using only your thoughts and what you feel for your boy: that will give you the keys to make your gift!
Of course, you may come up with something instantly, but it may take a little longer.
Find ideas in things you've seen, or read what to get my boyfriend to investigate something else.
You are going to have to dedicate time to it, I am not going to deny you, but the effort will be worth it!
You will leave your partner with a smile and a beautiful memory that will have left your hands.
A GIFT BASED ON HOW MUCH YOU KNOW HIM
The first thing you should do is get to know that special person a little bit.
If they have been together for a short time, or even if they are not yet, you should dedicate yourself to investigating their tastes, their passions, their hobbies, their future desires, their past experiences…
Everything can be useful and give you clues about what to give him.
I recommend that you consult our Magnetic Desire Method so that you can better understand the masculine mentality and help you know how to attract a boy.
Find out with his close friends, with those who know him well, with his family and discover how to surprise your partner without spending money .
This is the first step, doing the work of a private detective to look for clues that will be useful to you to give him something that he really appreciates and touches the deepest fibers of his heart: something really special for him.
So you know that you have a task ahead of you to know how to surprise your partner without spending money , but it will not be such an arduous or unpleasant task either.
At the end of the day knowing things about your boy is something that will be pleasant and will even serve you in your present or future relationship.
SHOW YOU HAVE BEEN THINKING ABOUT HIM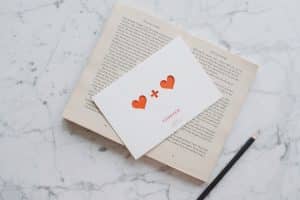 Of course, with all of the above, you will make him discover something vital: that money is not the most important thing, but all the time and effort you have dedicated to it.
Yes, because you are even going to transmit that message together with your gift, that you have been thinking about it a lot and that it is worth having done it to make it happy.
He may like an expensive gift a lot, but he'll like even more knowing that you've tried your best and haven't gone for the easy one or let it go because you don't have money.
It will be a nice touch from you the fact that you have worked to create that original and romantic gift that you will give him, and that it will be personalized just for him!
Nobody else will have an equal gift, or even similar, if you work seriously for it.
So you have to make an effort to surprise him; And don't worry, gifts like this always have advantages in your favor.
You will have him surrendered at the feet of the girl who loves him so much and dedicates the time to him for a special present, that is, you!
This way you will know how to surprise your partner without spending money .
HOW TO SURPRISE YOUR PARTNER WITHOUT SPENDING MONEY: PRACTICAL IDEAS
Well, as I already told you, if you need help with your imagination, to wake it up a little or to fully apply what you find, you can search the internet.
Here I propose a few ideas so that you don't even have to look elsewhere, maybe one of them will help you make the perfect gift for your boy!
Choose one or several of them and personalize it according to the characteristics of your partner and according to the type of relationship you have.
Here I leave them so you know how to surprise your partner without spending money .
Idea #1: Relive past experiences
If you are a couple or have known each other for some time, you can take great advantage of this.
Dig through the trunk of memories, choose a passage that pleases or means something to both of you, and have them relive it!
You can play the song that was playing when they met, or go to the place where they had their first kiss, even relive the wedding night!
If you want more ideas to know how to surprise your partner without spending money or spending only a little, you can read 30 original gifts for your boyfriend
Include him in the situation by reminding him of that moment you want to relive together, guiding him through that journey in memory and doing the same thing that the two of you did at that moment.
You will see how you get more than one smile when you verify that renewing the experience makes it totally different, and at the same time conducive to not forgetting that initial experience that you want to remember!
Idea #2: Recreate fictional experiences
Not only can you use real experiences, you can also invent them!
You can create a character that you know he will like and play to interpret it.
For example, you can leave the house and knock on the door, when he opens you will be the new neighbor who comes to ask him for some salt.
You could also play the doctor who does a medical check-up, or the inspector who wants to check something in her room and check everything that is wrong.
You create the situation with the fantasies that both of you have; no matter what it is, the important thing is to continue with your role and not get out of it.
Stand your ground like a professional actress and play different roles to fuel the spark of love and desire.
Idea #3: Massage: One of the ideas to know how to surprise your partner without spending money
Well, this is something that you can give as a gift and that, without a doubt, he will like it a lot, but you must study a little beforehand!
If you don't know, don't go for a massage because you can do more harm than good.
The feet are very sensitive areas and easy to handle for an inexperienced person, but the most important thing is to pay attention to what you don't like being done to you or the sensations you cause, as you may not like it; for example, having your fingers stretched or tickled.
If you want to do it well, you must be very attentive to what he feels and if it causes him pleasure or not, after all you are touching his body and only he knows and can tell you what he likes.
I recommend you use some oil so that, at the time of the massage, your hands slide smoothly without rubbing or doing any damage.
Prepare a cozy environment, with candles and a dim light, where it is not too cold because when you relax, the body temperature drops; and, choose a time when they cannot be disturbed, because all the magic will be broken if this happens.
Something key:
Turn off and disconnect cell phones and phones to avoid any kind of interruption.
You have work, because giving a massage is a strong physical activity for the masseur, but you will surely discover that it is worth it!
To learn more about couples massages, take a look at the article on naturaclass.net
Idea #4: Romantic dinner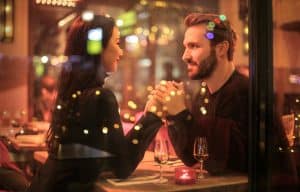 Here you will have to work a little more if you don't know how to cook.
Remember that it is about giving him a gift, something that he likes, so you have to prepare something delicious.
Find your favorite dishes and give free rein to your imagination to prepare them, but without going too far from the recipe!
Try everything you are doing, do not make the mistake of giving it to him without having tried it and that what you cooked is salty or raw.
Another important thing: do not forget the detail of the presentation.
Sight is one of the most important senses in man and a well decorated plate, as if it were a nice restaurant, will make it to your liking without even having tried it.
And at the end of dinner, be the dessert!
In addition, you can learn a little more about this topic in the article written by revista.ucm.es
Idea #5: Erotic dance
This gift requires a little more courage and trust in both of you.
Everyone does not dare to give things like these, out of modesty or fear of ridicule, but if it is your partner and you love each other, it will be a total success!
Choose the right music, decorate the room with candles and a cozy light, choose clothes and let's dance!
You can cause more than one laugh, but that's also what it's all about, having fun together, after all, you're not a professional, you're a girl who decides to dedicate a special dance to her partner; so you will know how to surprise your partner without spending money .
Idea #6: Treasure hunt
In order for him to get to his gift, you can make him go through a game that he surely played as a child: the treasure hunt.
Fill the house with directions with news and take him through it to go through drawers, cabinets and different rooms until he reaches the place where you hide his gift.
It will be really fun for both of you if you don't discover the gift so soon, try to hide the news well so that you don't miss any while looking for them one by one.
Idea #7:

Travel inside the house
Plan a trip at no cost: inside the house itself.
Post notices for them to go from room to room and fill them with photos and memories of places they've visited or want to visit.
Find pictures of special places and paste them everywhere next to the interesting facts on this site.
Leave the most important place for last: the one where the two of you meet together.
Idea #8: Photos and videos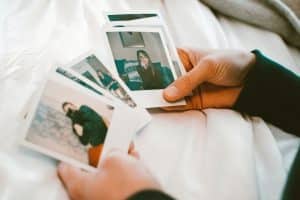 They can be your allies if you know how to choose well.
Create a personalized video with the song you both like and the photos that will remind you of special moments.
You can use beautiful phrases, for that see Long love phrases , so you have more options.
In addition, the digital age means that we take and take photos at all times, but those photos remain archived on the devices.
You can then make an album with the best printed images of the happiest moments together, you will see that he will love it!
Idea #9: Poems, letters, phrases
They can help you a lot to complement or be the gift for themselves.
Choose the ones of your preference, create them from your own inspiration or seek help in other places where you can find them.
Fill many news with phrases, leave a whole poem written on the mirror with lipstick, or write a romantic love letter!
If you want extra help, consult  Happy Birthday Letter for my boyfriend and you will have excellent ideas so that you do not fail to express what you feel.
Idea #10: Personalized Cards
Magazine clippings, pictures of special places, hearts, drawings; everything you can think of can be pasted on your beautiful personalized card just for him.
The best part is that no matter how hard you look, you will find them similar, but never the same as the one you made!
Idea #11: Crafts
In this case, you can have thousands of ideas, read Crafts for Valentine's Day and discover easy options to do by yourself.
If it goes wrong at first, try again, and if you are not a curious person or with facilities in the manual arts, you will have to try a little more.
Try to be calm when you go to make the gift, and put all your love into it, didn't it come out perfect? ​​A little secret: it doesn't have to be.
Idea #12: Songs on the radio
It seems something old or old-fashioned, but it is still a classic when it comes to romance.
Choose a beautiful song from the artist of your choice or if you have a song as a couple, much better!
Turn on the radio at the indicated time and get him to listen to it along with your message on the station.
It can be very helpful if your guy has a car and is one of those who drives with the radio on, so you just have to know what time he is behind the wheel and tell him to put on the right program and you will know  how to surprise your partner without spending money .
Idea #13: Excursions and picnic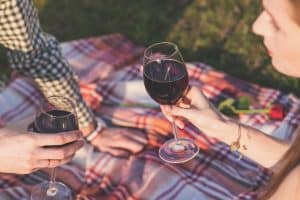 This is only going to cost you the preparation of the meal, which will be light.
Choose the place that you think is romantic, secluded; it can be a mountain, a river, or any other place that is perfect for the occasion.
Prepare a surprise with a natural and relaxing space!
Always keep in mind the tastes of your boy, he may not like this type of landscape and then you will create the opposite effect.
Idea #14: Different sǝx
This is always an ally in your favor and you can innovate as much as you want and to the limit that you dare to go with your boy.
Use your womanly weapons and leave him wanting more and more from you!
Idea #15: Use the birthday number to your advantage
Another original and fun idea is to use the number of years, months, or even days you've been together.
Play a little math and get him something that is equal to the amount of time you've been together.
Of course, you should think of something like cards, balloons, notes, letters, or whatever comes to mind, but always depending on that time, because remember that you will have to give one for each time period.
Well, you already have tons of ideas, now you just need to get down to work and use these tips to know how to surprise your partner without spending money.