Do you want to have a different date and experience the world of attraction from another perspective? Well, it's very simple, keep reading and discover everything you need to know about how Tinder works , the application that revolutionized the traditional way of dating, meeting people and, why not, potential partners.
Through this app, you will have the novel experience that you want so much and, in case you are new to this universe of dating apps, I will guide you!
Today you will know what Tinder is and how it works, how to create an attractive profile, the best tricks to flirt, what the privacy issue is and what are the main problems when using it.
In addition, I invite you to consult the infallible Magnetic Desire Method so that you can learn how the male mind works and seduce with emotional intelligence.
What is Tinder
Tinder, as I already mentioned, is a dating and meeting application, in which you can flirt with people who have the same tastes as you and best of all, it's free!
This app was born in 2012, first tested among university students, however, a couple of years later it became the app of the year with millions of users.
Tinder works in a simple way, which perhaps explains its success, profitability and permanence in the market.
If you feel a little fearful and hesitate to register in the app for some reason, it's normal, what I advise you is not to miss the opportunity to have fun out of fear; What's more, you may be lucky enough to find the man of your life through this medium.
Tinder is one of the most popular dating apps in the world, take advantage of it!
Check the text published by scielo.org.mx and learn more about how love is conceived in this app.
How Tinder works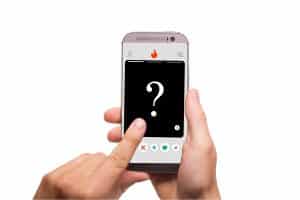 The first step to become part of the great Tinder community is to download the application, install it correctly and open it without fear, remember that it is free unless you want to pay for some additional services!
If your Smartphone has an Android operating system, the application can be downloaded from the Google Play store; however, if you use an iPhone, you can find it in the App Store. Remember that it is free on any device.
Tinder will not ask you for your credit card number or any other means of payment; but to access the application itself and be able to create a profile, you will have to give your phone number or link your Facebook account, which becomes an embarrassing inconvenience for some people because they do not want all their friends to know that they are part of it. of the app.
After creating your profile, the ideal is that you personalize it by adding your email, name, age, at least one photo that represents you and a description so that others can learn more about you.
It is also important that you detail what gender you are looking for, the age range, your sexual orientation and the distance range within which you want to find a partner.
With the information you provide, the Tinder algorithm will be in charge of showing you the possible candidates that meet these characteristics, thus saving you time.
The rest of the process is very easy, you only have to choose the users that you like the most and, if that person also liked you, the app will inform you. In this way, they will have the option to interact in a private chat and get to know each other much better.
Next, I will explain in more detail how Tinder works so that you know how to find a partner on the internet.
Tinder features
Now that you know how Tinder works , I invite you to learn about its usage characteristics:
Tinder will show you, successively, different profiles of other users and with a movement, you will let them know if you are interested or prefer to move on to the next one.

By swiping to the right, you will indicate to the app that you like that person, but if you swipe to the left, it will assume that you rejected that user, obviously this will remain anonymous.

You can "like" other users' profiles so they know you liked them.

If two users slide to the right, it means that they liked each other and that is when a "match" occurs;

therefore, both are informed and can chat privately.

Tinder is available in more than 24 languages.

In the year 2017, Tinder Online was launched, so that people could access Tinder from their desktops and Tinder Gold, which is a premium subscription feature.
Would you like to know more about how Tinder works , continue reading and check out the article how to seduce a man by chat 8 golden rules!
What are the main functions of paid Tinder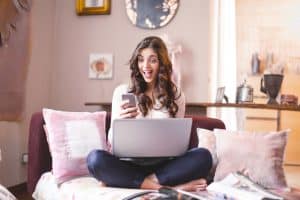 It is important to clarify that premium Tinder services are divided into 3 types, from the cheapest and basic (Boost) to the most expensive and complete (Gold). Paid Tinder offers the following:
1. Rewind (Retroceder)
Sometimes you switch between profiles so quickly that you swipe left on a person who caught your eye. The "Rewind" option allows you to undo the last move you made.
2. Super Likes
When you give someone a normal "like", that person will know that you like them, but if you give them a "super like", the other will know that you are very, very interested.
In addition, it will make you stand out among the others with blue stars when your profile appears as an option to be a "match". It is important to clarify that free Tinder users can only use one "Super Like" per day.
3. Boost
With this feature, you will become one of the featured profiles in your region for half an hour, thus getting more people to find you. According to Tinder, you will have 10 times more users looking at you, so the chance of finding a partner will increase.
4. Likes You
"Likes You" has the feature of allowing you to see all the people who previously "liked" you; In this way, you will have the option to "match" with people who showed interest in advance.
5. Passport
Tinder does not allow you to change your location to one where you are not. Now, if you are also interested in interacting with people from other countries or cities, you have the "Passport" alternative.
As you can see, it is a very convenient tool if you are a woman who loves traveling and meeting people from all over the world.
How Tinder works is very easy to understand, which is why it is one of the most used applications in the world.
Also read: Top 10 of the best sites to flirt and find a boyfriend online.
Differences between Tinder Plus and Tinder Gold
With Tinder Plus you can enjoy premium features such as the following:
Unlimited "Likes"

Rewind (Retroceder)

5 Super Likes every day

1 Boost al mes

Passport

zero ads
Now, with Tinder Gold you will have access to the same functions of Tinder Plus, but you will also be able to access, exclusively, the functions "He likes you" (this function allows you to see who is interested in you) and Top Picks (a function especially designed by Tinder to show you the profiles with the most potential to become "matches").
Although it is very important to know how Tinder works , it is also essential to know how to flirt on Tinder and, below, I share the best recommendations.
Recommendations to flirt on Tinder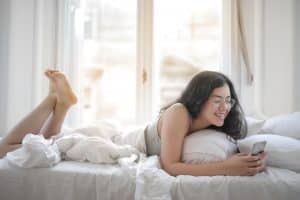 Choose photos that flatter you:

Try to upload good quality photos and avoid, if possible, selfies where only your face is visible;

opt for photos in which you look beautiful and interesting, that highlight your qualities or hobbies.

We advise you to avoid sharing photos with family or friends and do not forget the relevance of the choice of the first photo, since it is the one that people see on your profile.

Now, remember that a sexy photo will have a better chance of success.

Be clear about what you are looking for:

Are you looking for a stable, sporadic relationship or a friendship?

This is an essential point to put aside misunderstandings.

Provide objective, true and interesting information:

Talk about your tastes, hobbies or what you are looking for in general in life and love.

Increase maximum distance and age range:

You never know who you're going to fall in love with, so don't be afraid to expand the age range.

Similarly, we recommend that you increase the search distance to meet more people.

Stay away from prejudice and don't miss the opportunity to meet the love of your life!

Do not overdo it by swiping to the right:

Remember that there is a limit of likes per day depending on your age, so do not overdo it because, if you have not purchased Tinder Plus or Gold, you will have to wait 12 hours to swipe again.

Link your Tinder account to your Instagram account:

If you link these two accounts, interested parties will be able to access your Instagram profile and get to know you much better.

You could try meeting both men and women:

It could be a friendship, a serious or temporary relationship, the important thing is that you have fun to the fullest!

Tinder allows you to meet people, leaving prejudice behind, so I invite you to try this alternative.
If you want to know more about the seduction process on Tinder, read the text from javeriana.edu.co
What are the advantages of using Tinder
How Tinder works is one of the great advantages of the application, which makes it one of the most popular for its easy access and use.
You don't have to answer long and tedious questions to join Tinder; in a matter of minutes, you can be part of the great community.
Tinder is also quite convenient if you are a bit shy and find it difficult to interact with men, this app can make your life and the process of conquest easier. Breaking the ice will no longer be a problem for you, so take advantage of the facilities that Tinder offers you.
Another advantage of Tinder is that you only contact the people you like and, in case the conversation does not flow or there is no chemistry, you can easily distance yourself.
How to find love online is possible, you just have to know the means.
Main drawbacks with Tinder
One of the main drawbacks that Tinder has is fake profiles; Although they have made efforts to prevent users from lying, the dishonest person with bad intentions is not lacking.
Although it rarely happens, we advise you to be cautious, especially when you decide to go on a date in real life.
There are people on Tinder who tap into your personal information and edit photos to make themselves look better, which is quite dishonest and misleading.
The good news is that you can report these fake profiles or impersonations through the app in the following way:
When you're swiping profiles, open the user's profile, scroll down and tap "Report".

You can also do it from your "matches" list like this: select the user to open the message screen, click on the user's photo to open their profile, scroll down and select "Report".

There is also the option to report by email.

If you notice behavior that violates community policies or rules, feel free to contact Tinder's customer service team, who will need to provide detailed information about the user in question.
Keys to chat properly on Tinder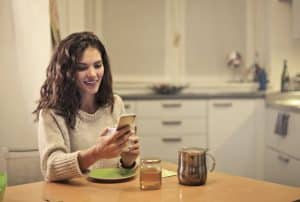 The interaction in Tinder begins with a "match", but after that what follows. What is supposed to follow is to talk to said person or persons and create a link by chat; This is when you should put your pride aside and take the initiative to start the conversation.
If you don't know how to flirt by chat, take a look at these keys and succeed on Tinder:
Try to be yourself, be a spontaneous and natural girl when expressing yourself.

Be just as nice as in real life, but without exaggerating.

Decide wisely and interact with people who really interest you and spend good time with them to make the right filter.

Avoid giving your phone number to the first man you interact with.

Talk and chat through Tinder for a long time to find out more about that man or men you are interested in.

Once you have gotten to know that person you are interested in a little better, it is time to make an appointment and face reality.

In this type of meeting, things can happen such as that they understand each other perfectly, that it is not what you expected, that the date is a total failure or that they get married, have children and it is one more anecdote to tell your grandchildren.

Be careful when choosing the place of the first date, try to make it a public place;

you don't know what kind of person you're dealing with and you better not take chances.

What to do if you don't feel comfortable on the date?

Well, it's very simple;

you can tell him the truth or come up with a believable excuse.

You are not forced to stay in a place you don't want with a person you don't like, you are free!

It can also happen that the first date with that boy you met on Tinder is wonderful and you choose to continue strengthening the bond and establish a serious relationship.

How to conquer on the first date is not that complex, you just have to know how to use your feminine seduction strategies.
Now that you know everything about how Tinder works , you can start exploring the app and getting a date here. Cheer up!