The world is a great place; there is much to know, live and learn. There are many different paths, foods and landscapes ready to be discovered when traveling with your partner.
Dare to give a plus to life; embark on an adventure next to that special person and you will see that traveling with your partner is the best option!
Dare to be the ideal couple by surprising your loved one with a surprise trip!
Can you imagine them having the opportunity to walk barefoot along a beautiful beach holding hands or snuggle up in the cold while delighting in a beautiful landscape in the mountains?
There are so many things you could share together!
Traveling with your partner is something that you simply should do; Aside from being fun, it brings a lot of benefits to the relationship.
Perhaps you think that, due to their constant friction and arguments, a trip is not the best idea; Well let me tell you that you are absolutely wrong! Quite the contrary!
If you really want to improve things with the man you love, traveling is exactly an excellent solution because it will refresh and strengthen the bond that unites you, generating only thoughts of love.
There are a lot of magical and novel places in every corner of the world; they will surely find a site that suits their possibilities, whether near or far.
Next, I will explain in detail all the benefits of traveling with your partner. Once you find out about all the advantages, I'm sure you'll want to pack your bags immediately!
You will see that the beneficial effects can be perceived, even before they set foot outside the house.
1. Planning the trip
Even before leaving with the suitcases and boarding a plane or the means of transport that they are going to use, planning the trip is something that will bring them a lot of fun; Simply broaching the idea with your partner can elicit a happy and exciting response.
Keeping in mind the possibility of venturing to new places together is enough to change the atmosphere between the two; appeasing any emotion of anger, reducing the tension that may exist and, above all, increasing smiles.
This option can never be missing among the romantic plans that you want to live with your boy.
Organizing and planning to travel with your partner is a good way to practice effective communication, since both of you will have the same goal in mind: to spend unforgettable moments in the best possible way.
2. Travel as therapy
This strategy helps a lot in couples who have lost the ability to speak as confidants and are unable to be on the same page.
Definitely, traveling with your partner should be one of the golden rules to keep him by your side since this has a therapeutic nuance.
Talking about the trip can help them smooth out communication problems, by being able to talk about a common goal that excites and desires them.
This excitement of anticipating something that the two of you will enjoy will make you feel the need to talk, quickly, to discuss every detail about the places you are going to visit, the activities you want to do, etc.
Communication as an ace up the sleeve
Naturally, communication will increase as plans progress, and will improve significantly, which is why it is an excellent form of therapy when traveling with your partner.
In addition, you can complement it with professional couples therapy, since through this the trip can be made more profitable; You can also read about the subject in the article published on the scielo.org site and thus nourish yourself with related information.
3. Greater empathy
Because travel talks usually require a good amount of time, the feeling of "getting on the same page" will be in the air, even when you don't talk about the trip.
This will also help ensure that, almost without realizing it, both are looking not only for the best way to enjoy the trip on their own, but also to be aware of the other's tastes and priorities.
in the place of the other
"I would like to go diving… will he enjoy it?", "it would be great to go to a cabin… will she like the place?"
That kind of thinking is a great support to get back to having a good attitude of companionship and consideration, both of which matter a lot in a relationship.
Putting yourself in each other's shoes is vital for the couple because it increases understanding and breaks down any barriers that may prevent planning a harmonious trip.
Who would have thought that just one trip could begin to improve communication and the way of thinking between the two.
And this is just the beginning!; Let's see how the process of traveling with your partner continues to improve the relationship.
4. Adaptation ability
By traveling, they will acquire the ability to make any place unique and feel as comfortable and at ease as in their own home.
Travel is a kind of therapy that will help them improve communication, get to know each other better, reduce fights, feel more united, have more romantic moments and revive passion.
5. Getting to know your travel companion better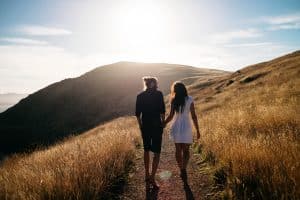 While they are planning their trip, they can notice new and interesting things about the tastes and ideas of the other. Discovering new details about the couple is a lot of fun and something you can enjoy from the time the journey begins until long after it ends.
Think about how exciting it is to be able to find surprising things in your partner and for him to learn more about you: opinions about certain customs or traditions that they did not know about, emotions about new activities, etc.
6. Greater union as a couple
All this process and experiences will unite them more than ever, they will learn to appreciate each other in a deeper way and to be in constant learning; With this, you will soon be able to see how the misunderstandings, annoyances, and arguments begin to decrease.
Traveling with your partner is a great way to spend more time with your man and rediscover the meaning of "us", getting closer every day.
7. Traveling with your partner

=

 De-stress
Traveling with your partner could teach you to de-stress and enjoy the good times.
Consider the environment they are currently in. Evaluate how they live their day to day and compare it with the benefits of traveling that we have seen so far.
In other words, having the facility to communicate effectively since they are towards the same goal, knowing a little more about your partner through new experiences, and enjoying things as a team.
With this, they create the perfect environment to learn and fully value everything they can do or meet along the trip. The road is yours and you have the adventure ahead.
8. Fight back, fun now!
Imagine yourself in a new place where you are just adjusting to another accent, or even another language; perhaps in a restaurant with a dish in front of you that calls attention to all your senses, creating a great emotion that you and your partner share.
Do you think that right at that moment you remember the subject for which you had your last fight? Or all those little flaws that irritate you?
Of course not! I guarantee that these thoughts will not cross your mind throughout the adventure. The only thing you want to do is enjoy that moment; more specifically, enjoy that moment with your partner.
9. Think and enjoy the present
One of the wonders of traveling with your partner is that it allows us to focus on the here and now. Plus point!
The new stimuli encourage us to be aware of everything around us, leaving zero space for our mind to wander about problems and past discussions with the couple or uncertain things in the future.
focus on the now
There is no yesterday to be angry about or to regret. There is no tomorrow that makes us anxious about what may come. There is only today with all the opportunities to make it the best day.
At the end of the trip and return, they will have that beautiful memory of enjoying the moments without fights, arguments or anger.
The fact that they could live such pleasant experiences will make them look for them together again.
10. Mutual support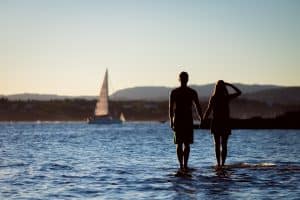 Union make force; a united couple is an unstoppable couple who can happily work to achieve everything they want, from enjoying a trip to facing any challenge that life throws at them.
This unity is not only achieved by getting to know each other better, as we have seen before; overcoming difficulties and going through those difficult times together helps a lot. And there's no better way to put those teamwork skills to work than on a trip.
11. Overcoming obstacles together
Being able to get ahead and get the most out of your adventure, despite any setback, will make you feel as if you have won medals, which is why traveling with your partner is so beneficial.
The boat to cross the island they planned to visit has left earlier; there is no signal to use the GPS and the local people do not speak your same language.
Every trip has those moments when we ask ourselves: "Now what do we do?". It is precisely those moments that can bring them more fun and awaken their creativity to find solutions.
The next time they have to deal with a relationship problem, they will remember those obstacles overcome on the journey and think: "If we could handle that, we can easily handle this."
12. Feeling of greater unity through complicity
With these ways of creating a sense of oneness, you will be closer to satisfying a very important need: that of belonging.
Without a doubt this is a way of how to attract that special person.
Throughout our lives, the sense of belonging is something that is marked in our actions: belonging to a family, belonging to a group of friends, belonging to society.
We feel better about describing the department we work in at a company as "my team."
Count on your partner
The union with your partner is something that will strengthen the sense of belonging between both.
A sense that the two of you belong to something bigger and more important than any problem that may come your way.
With this in mind they will become a strong and unstoppable couple.
The security and confidence that you can face everything together is, perhaps, one of the best results of a trip.
And, in most cases, an unstoppable couple is an inseparable couple.
13. New environment that will revive the idyll
Routine is not exactly what kills love, but it is certainly something that helps.
The same places, the same actions, the same habits, etc.; all this makes us, little by little, indifferent and we forget the small details and falling in love daily.
All those moments start to look so alike that there is no way to tell them apart or take advantage of them.
Thinking carefully about how to detect and take advantage of these moments is the key to keeping the routine away from the relationship.
With the above, you will surely have the idea of ​​how a trip can help rekindle the idyll again.
14. It will increase the romance
What surrounds you can greatly influence what you think; for this reason, in other places, when perceiving beautiful landscapes, it is easier to think of positive things.
A romantic place naturally arouses romantic thoughts; It only remains to let go and enjoy.
New environments call for new actions; usually romance is very close in travel. It is a fact, traveling with your partner, revives the romanticism!
Also, if you want the flame of love to light up on the trip, I recommend you read the article on  dehesa.unex.es whose main topic is marital passion.
Activate your creativity for romance
Creativity is the secret ingredient of romance. There are things that can be considered very romantic and can be achieved with just a small detail or a few words.
Knowing how to play with what we have around us is essential. Being in a new place is something that, by nature, sparks creativity!
Being able to have a time that is exclusively for the two of you, where you enjoy the moment being close, increases the possibility of creating romantic moments that you can remember for a long time after the trip.
15. A romantic atmosphere is built
Some tourist places have that objective; they design rooms whose atmosphere is innately romantic.
From musicians who serenade dinner parties, to people who offer perfect landscapes for couples such as beautiful beaches and beautiful gardens.
Some travel agencies even specialize in trips exclusively for couples.
All the romance and activities that keep you having fun together will be included.
The secret to a good relationship is to keep the romance alive.
If romance is something that has had some difficulty in your relationship and neither of you have found a good way to bring it back, on a trip there is nothing to worry about, romance will find you!
16. Traveling with passion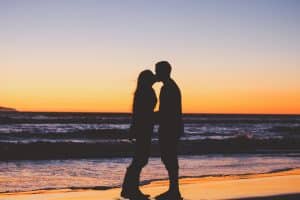 Have caresses and desire faded in your relationship?
It is likely that you no longer feel that urge to throw yourself at your partner or that your partner no longer gives you those looks with which you know instantly that he wants to eat you with kisses.
Many activities, even those that require physical effort, will encourage you to be together, feel upbeat, and have a lot of energy.
So if the lack of energy was what did not allow them to try to make the passion flourish, they will see how it reappears.
If we add aphrodisiac food to all of the above, they will find the right environment to wake up and increase the desire between the two of them.
Help yourself with the best seduction techniques of the Magnetic Desire Method, go to the fixed one and make it explode with pleasure!
17. Provide more special moments
On many occasions, what vanishes that desire is the well-known and detested monotony; always do the same thing, in the same way and in the same place.
But, if one of those elements changes, like the place for example, a new interest is awakened.
Seeing your partner in a bathing suit with the sun behind him or being close to each other watching the stars may be enough to awaken interest again and fully enjoy intimacy.
Traveling with your partner is a very successful option to bring the passion back, finding new ways to appreciate special moments.
Also, among the gifts for Valentine's Day, this is one of the best options you can choose to surprise your boy.
The time to travel with your partner is now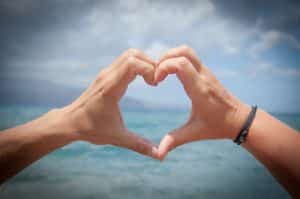 Now that you know all the benefits of traveling with your partner, what are you waiting for?
A trip around the world in eighty days is not necessary; a short trip will suffice, no matter the time or the distance, the idea is that they enjoy the experience that will help them improve their relationship.
We can tell you for sure that one answer is to travel with your partner to fuel the romance.
A luxury hotel overlooking the sea or a camping tent in the countryside under a starry night, any place will be magical in the company of the love of your life!
There is a whole world to explore. So they travel to another city, another region or another country; Take your partner's hand and head out on a new adventure!
They will see their relationship flourish in all landscapes!