What should and should not do on Valentine's Day? Keep reading and discover a complete guide so that you get off well on Valentine's Day and manage to attract him more to you.
Although it is true that February 14, that idyllic day in which all those who have been struck by Cupid celebrate love and feel more in love than ever, it is a magical, special, and almost perfect date.
However, we cannot forget that in our effort to want to make our loved one feel good and fill it with details, we make mistakes that could give us a hard time or ruin the relationship.
What to do on Valentine's Day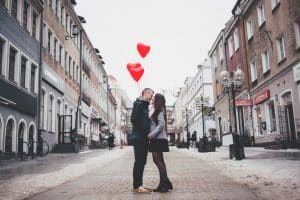 There are details that are not forgotten: a kiss, a hug, a nice word, or a caress; When it comes to Valentine's Day, the best gifts are those that are priceless.
The most important thing is that you remind your partner that he is the only person in the world who makes you feel complete and with whom you would like to enjoy.
You don't need a big budget or expensive gifts to celebrate Valentine's Day, you just need a lot of creativity and the best intentions to have fun.
Remember that falling in love is worth it and that everything is better when shared as a couple.
Take a look at the things you should not lose sight of on February 14! and thus make sure you know what you should and should not do on Valentine's Day
don't forget valentine's day
Although love must be shown every day of the year, forgetting such an important date leaves a lot to think about, even more so when your man is absolutely romantic and keeps it in mind.
There are thousands of ideas to make him fall in love and reaffirm your feelings, try not to overlook this day and he will know how to reward you.
A text message, a call, a letter, a dinner prepared by you, a delicious breakfast, crafts for Valentine's Day, a special massage, an unexpected trip, etc., all these ideas are some alternatives that will surely make him very happy.
Valentine's Do's and Don'ts: Plan, Don't Improvise
Think about the tastes and preferences of your boy; Do you prefer restaurants or intimate dinners? Is it adventurous or traditional? What is your favorite food?
The idea is that they have a pleasant and, if possible, unforgettable time; therefore traveling with your partner is a good option if the possibility exists.
Sometimes, these types of dates are planned as a couple, which is ideal to strengthen the emotional bond and communication.
However, surprises will never cease to be much better, yes, do not improvise, plan! Only then will your partner feel that he occupies a very special place in your life.
Continue reading and take note of what you should and should not do on Valentine's Day.
Do It Yourself
It is very nice to receive a gift from the person who keeps us up at night, but it is better when that special being takes the trouble to elaborate the detail that they want to give us.
There are things that cannot be bought and those are the ones that have the greatest value; Try, this Valentine's Day, to impress him with something that is not expected.
Maybe he's used to chocolates and hearts. Be authentic, inventive, and make him feel lucky to have a girl as valuable as you by his side!
You just need to let your imagination fly and activate your creativity, in case you can't think of anything, don't worry!
I invite you to be inspired by the options that I share with you in the article " Gifts for Valentine's Day ".
Think about what he would like to receive, not about your feminine tastes
Have you thought about what your man would like to receive on Valentine's Day? Remember that men and women think very differently.
Try to understand how the masculine mind works and put aside your feminine tastes. Are you willing to find out what your partner really wants?
Also, do you want to know what is the perfect present for any man? Will it be a kiss, a dinner, a massage, a night of passion?
Consult the Magnetic Desire Method and find out the most effective tips to awaken a storm of desire in him, it will serve you both on the day of love and every day of the year.
 looks sexy and beautiful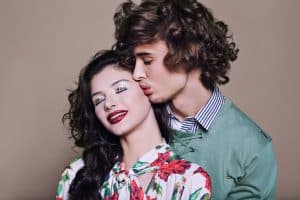 Everything enters through the eyes; That is why it is important that you know how to seduce a man. He uses all your weapons of conquest and leave him with his mouth open.
Valentine's Day is the perfect date to get more than a sigh out of him, you can look sexy and beautiful as he loves to see you. Take a look at the following ideas and keep them in mind to impact it!:
1. Wear sensual but, at the same time, subtle clothes: Leave something to your imagination and stimulate your senses to the fullest. Make him want you madly and make him feel lucky to have you! That's why I recommend you learn how to make him see you as the most special woman in the world.
2. Hair down: Men love it when girls wear their hair down; If you don't usually do it, this is your chance this Valentine's Day! Make sure your beautiful hair looks healthy, shiny, and silky.
3. Makeup: If you are going to put on makeup, avoid overdoing it. Remember that boys prefer natural faces, without too many decorations. This detail tells them that you are a self-confident person.
You will make them understand that you do not need to cover the small "defects" to highlight your beauty. Focus on your lips, moisturize them and apply some lip gloss to them so they can't resist the urge to kiss you.
4. Lingerie attack: Underwear is as important as the outside, even more so when you know that your Valentine's Day is going to end in a night of passion.
No matter what type of body you have, the most important thing is that he will see you as the most attractive woman. Through this incentive, the relationship will be greatly strengthened, so you will know what you should and should not do on Valentine's Day.
Please him on the day of love
We all have fantasies and what better time to fulfill them than Valentine's Day.
Has your partner mentioned any of their secret desires to you? Take advantage and please him on the day of love! Not only will he benefit, both will enjoy an unforgettable celebration.
Do you venture to make her dreams come true, to get out of the routine a bit and transform yourself into the most sensual woman? Think about it, the possibilities are endless!
The idea is to try hard enough to cultivate the relationship through empathy and you will be very close to knowing what you should and should not do on Valentine's Day.
Blend the traditional with the new
There are both traditional and avant-garde boys when it comes to love issues, some like novelty, surprises, and daring girls.
Others, for their part, prefer classic celebrations, romantic dinners, chocolates, phrases to fall in love, etc.; In these cases, it is best to bet on balance and merge the traditional with the novelty.
You more than anyone know what your boyfriend's preferences are, so you must take them into account, since your intention is for both of you to have a good time on such a special day, that moment created exclusively for lovers.
For example, if you enjoy good food and your taste is exquisite, instead of booking at a fancy restaurant, you could adapt your house in a special way.
Do not forget to find the recipe for his favorite dish, learn how to prepare it, and surprise your beloved man.
If you need alternatives to decorate and set the space with a romantic touch, take a look at the article " Romantic ideas for Valentine's Day ", it will surely be of great help to you!
What not to do on Valentine's Day
I am convinced that you want your partner to remember Valentine's Day as one of the best in his life.
Well, to achieve this, you must not only be clear about what to give him, but also what attitudes to avoid so as not to make mistakes that could put the relationship at risk.
Find out what you shouldn't do on this date and become the most fabulous bride and the perfect partner!
Making plans with people other than your partner
What you should and should not do on Valentine's Day is to know that one of the biggest mistakes you could make on February 14 is to make plans with friends, family, or co-workers, that's what the other days of the year are for!
Focus on your partner and make her happy! Try to share activities with your guy that you both enjoy, plan the day. Don't forget that the atmosphere should be both romantic and fun.
A successful Valentine's Day depends on you, it is an excellent opportunity to strengthen the bonds of love; however, remember that every day of the year is ideal for caring for and enjoying love.
Put aside all distractions, including the cell phone, and dedicate all your attention to that special person.
Base the day on a simple gift
While gifts are a small token of love, on Valentine's Day gifts are secondary. Do not think, for any reason, that material objects can replace a gesture of affection.
Let your imagination fly and surprise your man with your creativity, not everything depends on the amount you have on your credit card.
Obviously, good ideas are much more valuable, think of everything that he would like to have on the day of love and put into practice what you should and should not do on Valentine's Day
Do not lose sight of their favorite food and drinks, do not forget their favorite music and everything else that you could use to impact their mind and stimulate their senses.
give away kitsch
In case you plan to have a detail with your partner, be ingenious and do not always go to the same thing: stuffed animals, chocolates, etc., falling into the net of kitsch is very easy, but it is also quite risky.
Just imagine your boy's reaction, don't go for the most common option if your love is special! Don't insist on buying more "anti-gifts", bet on original gifts, and show him that you care about making him happy!
Turn Valentine's Day into a normal day
If you can't think of what to do on the day of love, but your intention is not to ignore it, think carefully about the best alternative so as not to turn it into a normal day! Keeping in mind what you should and should not do on Valentine's Day.
The idea is that they carry out activities different from those they would do any day of the week. It is not necessary to spend a lot of money, the most important thing is that they do something fun and celebrate love.
Enjoying as a couple is the best way to maintain balance and not let the relationship fall into monotony. Valentine's Day is only once a year, so don't sin for your lack of commitment to your boyfriend.
On the contrary, take advantage and show him that you are the ideal partner for him.
Wait for him to take the initiative
In the 21st century, waiting for him to take the initiative is a mistake. Modernize yourself, take the first step and organize a February 14th in the best style!
You will already know how to please him and make him melt with love. This time, plan the date carefully and focus on having a good time with your loved one.
He will see you as the girl of his dreams and will make it up to you sooner or later! if you know what you should and should not do on Valentine's Day
On Valentine's Day the illusion is renewed and the flame of passion is lit. Do not stop celebrating it, even more so if you feel that you are with the man of your life!
Remember that in couple matters, attraction and love are also important, so the task of falling in love is one of perseverance and knowing how to influence the mind of a man, however, creating an intimate moment with your partner will make her call turn on again.
Now that you know what you should and should not do on Valentine's Day… Have you already thought about how to celebrate it to make it unique and unforgettable?