Tinder has become one of the most popular dating applications worldwide, for this reason it is important that, apart from knowing how it works, you are clear how to use tinder safely.
Next, you will find a small guide where you will find out everything you need to know about said app with respect to security. So read on and take careful note.
In addition, I recommend you take a look at the incredible Magnetic Desire Method, it will surely be of great help to you when conquering!
Tips for safe dating on Tinder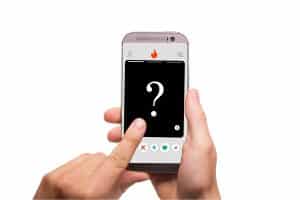 We already know how much you like to meet people and interact with guys you like, however, it is important that you do not lose sight of some details to protect your integrity and privacy on Tinder.
How to use Tinder safely yes it is possible, you just have to follow the following tips:
1. Do not share personal information
Avoid sharing your personal information, such as the address of your home or place of work, nor do you give details of your routine or places you frequent because it can be quite dangerous, in case the person with whom you are speaking has other interests with you.
If you want to know more about the seduction process in the Tinder dating app, read the article on javeriana.edu.co
2. Chat on the Tinder platform
Try that the first interactions are through the Tinder platform and do not fall into the game of some users who try to persuade you to obtain your personal number or email; Usually, those who insist on having your information quickly, do not have the best intentions.
To learn more about how Tinder works and how to protect yourself on this social network, check out what follows!
3. For no reason send money or talk about your financial status
Do not make bank transfers or send money by any means; if you really want to know how to use tinder safelydo not forget this recommendation!
Although there are honest people in these types of applications, there are also opportunistic people who can take advantage of you, so always be very careful.
Now, if someone asks you for money or tries to access your account information, report it to Tinder right away, they'll know how to handle it!
Do you want to discover more tips to learn how to use tinder safely? Read on!
4. Report any suspicious attitude or activity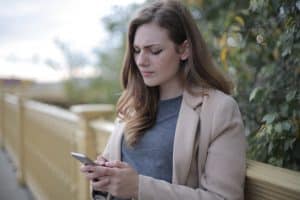 It is very important that you report when someone is going too far with you in any way. The app has very clear principles, read them well and don't hesitate to let them know in case of any abnormality.
Some of the abnormalities that you can report, according to Tinder, are:
fake profiles
Requests for money or donations
Underage users
Bullying
threats
offensive messages
Inappropriate or disruptive behavior during or after meeting in person.
Spam or solicitations to try to sell any product or service.
5. Protect your Tinder account well
Be especially careful when you log in from a public or shared computer, as anyone could use it and even harm you and violate your privacy.
In addition, I advise you to think carefully about your password, make sure it is secure, do not make it easy for malicious people and how to use tinder safely it will be easier for you!
6. Do some research about the person you're attracted to
Tinder has the option of linking the profile to an alternate account, either Facebook or Instagram, therefore, you could visit the networks of that person you just met to know a little more about him; Check out her photos, like her and find out what they have in common.
You will have already realized that how to use tinder safely It is very simple, so put all the above tips into practice and do not allow yourself to be violated through this dating platform.
In case you want to read some experiences regarding the use of Tinder, consult the text of scielo.conycit.cl
When meeting in person, keep these recommendations in mind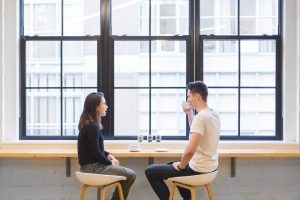 The idea, once you establish a little trust with the man you met on Tinder and have chatted enough, is to start dating in real life and agree to a date in person. How to find a partner on Tinder, believe it or not, it is possible!
Once this long-awaited moment arrives, enjoy it to the fullest, but safely as I propose in the following recommendations.
How to use Tinder safely: Choose public places
Do not agree to have a first date in a private place, choose public places! Now, if the person with whom you have the appointment insists that you meet at his house or yours, it is best to cancel the appointment, since it is a warning sign.
Everything should flow naturally, without pressure, don't forget that!
There are many unusual places to meet your partner, but make the first meeting quite a crowded place.
Let yourself get to know him and let him get to know you
Do not rush, take the time to get to know the other before agreeing to a meeting.
Do not hesitate to ask him the necessary questions and analyze his answers; In addition, it is convenient that, before seeing each other, they can interact by video call or telephone call, this to verify that it is the same person that appears in the photographs. You will see that it can be a good tool for detecting false profiles.
Tell a friend or family member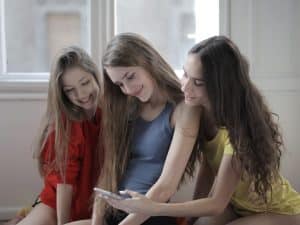 Keep in mind that even if you have spent hours talking to that man you liked on Tinder and even if you have tried to meet him, you do not know who he really is.
Therefore, on the day of the appointment, inform a friend or family member, it is better to be safe than sorry!
Notify Tinder of any eventuality during the date
If you feel like something wasn't right on the date, or that the person you met was stalking or engaged in unusual behavior, let Tinder's customer service staff know right away; they need to know about these types of users to avoid further inconveniences in the future.
¡How to use Tinder safely it depends only on you!
Avoid binge drinking or drug use
It is best that, on the first date, you do not consume alcohol or substances that can impair your judgment and alertness.
Try to be as attentive as possible and if the other person insists that you use drugs or drink too much, do not accept and end the meeting.
Also read: 18 things you should not do on the first date
Be careful what you consume
Accept only the drinks that the waiter has served and never lose sight of your glass or the container where it is served, since you could be the victim of some type of aggression through substances ingested without your consent, which, in general, are colorless and odourless, so you could easily be fooled.
Likewise, you cannot neglect your personal belongings, always keep them in sight.
Don't feel obligated to stay on the date if you don't want to.
Prioritize your integrity, in case you feel uncomfortable on the date, do not force yourself to stay on it, just make up some excuse or be honest, above all your comfort and well-being.
If you think you're unsafe for any reason, ask for help right away, then report it to Tinder.
Read the article "Blind dates" and discover the best facts about this type of meeting.
Don't forget about cyber scammers and malicious people
Many undercover scammers surf the web in fake profiles, which is why you should always keep this probability in mind and not trust everyone.
It is better to doubt a little, the security of your data is in your hands, do not share it with anyone!
Chatting is usually a bit simpler than trying to pick it up in person, however you have to be a lot more careful and cautious.
Final tips on how to use Tinder safely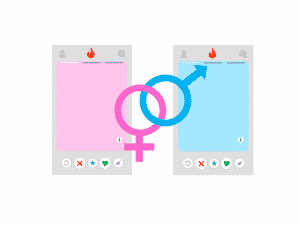 Do not send compromising photos because they can be used against you.
Avoid sharing photos where you appear with your friends or family.
Always report inappropriate behavior to the website.
We recommend that if you receive threats or feel harassed by someone, do not try to solve the problem yourself, but report it immediately, as you may be in danger.
Use strong passwords, this is your main means of protection on the web.
Do not connect your Facebook account with Tinder; you could then connect Tinder to your phone or create a new private Facebook just for Tinder. Although you also have the alternative of adjusting your Facebook privacy settings.
In order to ensure that your data doesn't reach the wrong people, you can use a VPN, which will create an encrypted connection between you and the server. Thus, others will not be able to see your IP address, much less what you do in apps like Tinder.
You can block users who harass you or make you feel uncomfortable; in this way, it is impossible for them to contact you through the application.
Remember that if you feel very overwhelmed with the application or it did not meet your expectations, you can delete it at any time. Tinder is not for everyone; try it and if it is not your style, leave without any problem.
now that you know how to use tinder safelyput all the advice into practice and I hope you have a good experience in this dating application and, why not, that you find the love of your life.