Have you been single for a long time and you feel that it is time to start a love relationship, but your seduction skills are not the best? Don't worry, today you will learn how to find a partner on tinderone of the best dating apps.
Due to the facilities provided by the internet and the virtual universe, the way we relate to others has changed a lot.
Presence has taken a backseat and now just one click is enough to connect and interact at any time with whomever you want, regardless of whether they are 1 or 10,000 kilometers away.
Currently, there are many people who meet on dating sites and maintain a stable emotional bond, many others use these sites to hang out and have fun without commitments; For this reason, it is very important that you know how these types of apps work to avoid future inconveniences or disappointments.
How to find a partner on Tinder It's easier than you imagine, keep reading and find out the best tips to achieve it!
What is Tinder and how does it work?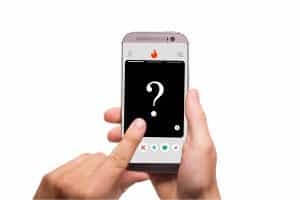 before learning how to find a partner on tinderyou should know that it is a dating and meeting application, which will allow you to meet many guys who have the same tastes as you.
The great advantage of Tinder is that, although it has paid plans, you can use it for free.
Due to its simple operation, it has become one of the most practical applications to find a partner and with millions of users around the world.
How does Tinder work? Discover it here!:
The first thing you should do is download the app and create a profile; To do this, you will need to add your phone number or link your Facebook account.
Once the account is created, the most convenient thing is to personalize your profile, that is, to specify your name, age, gender, one or more photos that highlight your attributes and that represent you, an intelligent description so that more men are interested in you, the age range and distance within which you want to find a partner and your sexual orientation.
With this information, the Tinder algorithm will take care of selecting possible candidates for you and showing them to you, with which you save a lot of time and go to the landline with men who initially meet your expectations.
Finally, you have to choose the boys that you like the most and if they liked you too, Tinder will inform you; It is at that moment when a "match" occurs, therefore, they will have the option of getting to know each other better in the private chat on the page.
Tinder is available in approximately 24 languages.
Tinder uses geolocation to show you those who are closest to you, which increases the possibility of having a face-to-face encounter with these people.
Now that you know a little more about this app, we will help you understand how to find a partner on tinder; So your forte is not to seduce, today you will learn how to flirt by chat.
How to find a partner on Tinder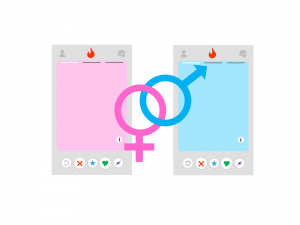 Since you are already determined to meet possible partners on Tinder, you must have certain skills when it comes to interacting through chat.
That is why we have devised a guide with the main golden rules for you to attract the boy or boys who catch your attention. Take careful note!
Rule #1: Although your purpose is to conquer, do not appear as a desperate woman
Be quite clear about what type of relationship you want and according to that you must adapt your chat conversations.
For no reason, if you just want to know how to find a partner on tindershow yourself as a desperate girl because you will surely drive away your matches.
The more calm, mature and serene they perceive you, the more interest you will arouse in him or them. Do not insist on behaving with intensity, it is a serious mistake if you want to know how to train a man to adore you.
Rule #2: Don't tell him your whole life at once.
Give him the opportunity to feel curious about you and decipher you little by little; Although it is easier to express yourself through chat, you cannot tell him everything about yourself, it can even be dangerous.
Ideally, you should be cautious; make yourself look like an interesting lady, tell her things about yourself but without exaggerating.
Remember that you are interacting with someone you do not know, so you must be twice as careful with the data you provide on these types of sites.
How to find a partner on Tinder It does not mean that you have to tell details beyond what is necessary or that you have to be who you are not.
Bet on transparency and moderation, they will be your best allies!
To learn a little more about Tinder, check out the article at repository.icesi.edu.co
Rule #3: Think carefully before asking and answering
One of the great advantages of chat is that you can think very well what you are going to write before sending, so take advantage of this in your favor.
In face-to-face interaction, it is very likely that nerves will make you play a trick, especially if you like the man you are talking to a lot, but in the virtual world the story is different.
You will not have any type of pressure, so you will have more clarity regarding your ideas and you will be able to use all your potential to conquer.
Remember:
The fact that you have more time to respond does not mean that you are going to leave the other waiting for an eternity; You must learn to be balanced and emotionally intelligent to succeed in love.
I also recommend that you try to write correctly and with good spelling, as this will speak for you.
Surely you will be interested in reading: How to get a boy's attention on social networks
Rule #4: Beware of misunderstandings or misinterpretations
To learn how to find a partner on tinder You must be quite careful, because you will not have supports or tools such as female body language to communicate effectively.
Be as clear as possible and avoid phrases, jokes or expressions with double meanings that could lend themselves to misinterpretation and ruin your entire conquest plan.
Remember that, sometimes, the messages do not arrive with the same intention that we write them, so you have to be prudent and subtle when expressing yourself, otherwise you would make fatal mistakes.
Rule #5: Keep the conversation interesting and quality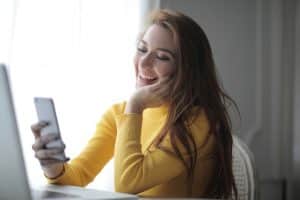 Once you like a man on Tinder and vice versa, they will have, as I already told you, the opportunity to chat, which you should make the most of.
The guy doesn't know you and you don't know him, so you'll have to focus on this first contact to get as much information as possible, this talk will be definitive!
Try to be as interesting as possible and build a quality dialogue where you can also show that boy how wonderful you are.
Of course, I know who you really are, do not insist on pretending to please this new conquest; By being a genuine woman, you will be able to keep that guy interested so you can continue the conversation now and in the future.
To learn more about how to find a partner on tinderkeep reading and discover more golden rules!
Rule #6: Let him talk and read him carefully.
Be very careful about becoming the girl who only talks about herself and does not allow the other to give her opinion. It must be an equitable conversation, where both parties participate and the dialogue flows.
For no reason can you run the risk of boring him, so opt for open answers and avoid those that are single answers; be kind and funny, but in moderation.
Rule #7: Act Confident
Evolve in your conversation naturally as if you were talking to a friend and relax. Nothing makes men fall in love more than a confident woman!
Learn how to reflect security and you will have all men surrendered at your feet.
Do not use too many emoticons, prefer written text and express yourself through it. Make your answers convincing, do not lie and always try to be quite clear.
Rule #8: Flirt, but subtly
Although it is clear that, being a user of Tinder, your main purpose is to conquer, you must do it with subtlety because, although the application helps you find potential candidates, it is up to you to seduce them or drive them away.
Use subliminal seduction in your favor and make him fall in love without him noticing; that is, you must make him feel good talking and interacting with you.
Make him feel desired, give him a couple of compliments and don't pressure him, only then will he begin to see you as a special woman and with whom it would be worth starting a relationship!
Rule #9: Be patient, stay calm
The art of seduction requires work and dedication, so don't lose your temper and conquer that man with patience, if what you want is to start building a quality affective bond.
How to find a partner on Tinder It's totally possible, you just have to be emotionally astute and know the keys to influencing the male mind.
Apart from Tinder, there are many other dating apps that could be of great help to you in finding the love of your life, so explore them!
Rule #10: When you meet in person…
Keep in mind that, even if you have spent hours talking to that man you met on Tinder and think you know a lot about him, precautions are not superfluous.
When the time comes to meet, do it in a public place, you don't know for sure what kind of person he is, so you better take care of your integrity.
Also, let a friend or family member know that you are going out with this person.
Learn a little more about cybernetic love in the text published by scielo.org.mx
Final tips to seduce a man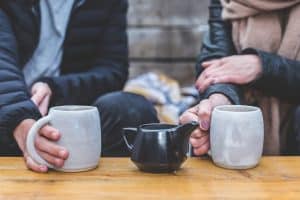 When you start the real and personal interaction with the guy on Tinder, you should start using other strategies to make that special someone fall in love intensely.
The following recommendations will help you look more beautiful both inside and out and shine with your own light to drive anyone crazy with love:
There is nothing more charming for a man than a beautiful smile, so smile without fear. If you add a deep and sensual look to this, we will have an infallible tip of conquest.
Show him that you are a unique and unrepeatable woman, intelligent, dreamy, authentic, strong, feminine, always open to possibilities.
The mystery will be your best ally; This way you will make him not take you for granted, but he will make an effort to know more about you and, of course, he will be happy to seduce you.
Wear clothes that highlight your beauty; make yourself a change of look that favors you, use colors according to your skin color, and do not forget to love yourself as you are.
Always keep your hair clean, clean yourself well; do not forget to take good care of your nails and brush your teeth carefully, it is very important that you have good breath.
It stimulates your senses both visually and olfactory; use a soft fragrance that positively impacts him so that he remembers you and distinguishes you from the rest of the girls.
To win her heart you must, apart from looking good, make effective use of verbal language and not forget the charms of body language.
Show off your skills a little without going into exaggeration, the idea is that you positively refer to yourself so that he knows how great you are. Tell him a little about your personal and academic achievements, he will surely be interested in knowing everything about you.
The casual approach is key; do it little by little and don't miss any opportunity, but above all make it look casual and natural.
How to seduce a man will flow for you if you follow my recommendations to the letter.
Now that you know the best tricks to know how to find a partner on tinder and what you should do once you start interacting with that boy you like, put them into practice and start enjoying love and a quality relationship.